Former Teammate Reveals What Helped Shaquille O'Neal to Win Three-Peat with the Lakers
Published 12/25/2020, 9:37 AM EST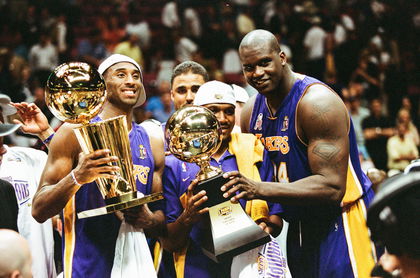 ---
---
Shaquille O'Neal is a retired four-time NBA champion who has been to the Finals six times. The first of his two losses came in 1995, when the Orlando Magic played the Houston Rockets. Back then, Shaq was just a 23-year-old back who faced the wrath of Hakeem 'The Dream' Olajuwon in the finals.
ADVERTISEMENT
Article continues below this ad
There have only been eight finals series sweeps in NBA history. The Magic are a part of this shabby record as Houston brought out the brooms when they took on Orlando in the 1995 NBA Finals. 
Penny Hardaway and Shaquille O'Neal led a fiery Magic team but faced an embarrassing defeat against a star-studded Houston lineup. Hardaway reflected on how the 0-4 sweep helped Shaq transform into a better player. 
ADVERTISEMENT
Article continues below this ad
The finals sweep baffled Shaquille O'Neal and Penny Hardaway
Making the NBA finals is no easy task. But a series sweep in the finals undoubtedly leaves one in a tough position mentally. Likewise, Shaq met with disappointment during the 1995 NBA Finals. 
"Shaq was going back to the drawing board after that series even though Me and Shaq both had a great series. We got swept to a team that we thought that we were better than. If you know this about the league right, once momentum hits, its over," Hardaway said on The Rematch podcast. 
Hardaway stressed on the word 'momentum' and emphasized how it plays a vital part in boosting a team's confidence. The four-time All-Star cited a sudden momentum shift as the reason behind their loss.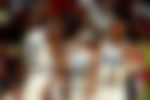 He even took a more recent example and credited the Denver Nuggets for flying high on momentum even though they were down 1-3 against the LA Clippers in the 2020 playoffs. 
"With us, we felt like we were the better team and once we got down and lost our momentum, they gained momentum and never looked back," Hardaway stated.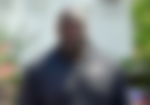 Hakeem Olajuwon taught O'Neal a valuable lesson with his victory 
Shaquille O'Neal and Penny Hardaway put up impressive numbers in the 1995 Finals, just as the latter mentioned. The Big Diesel averaged 28.0 points and 12.5 rebounds in four games, while Hardaway averaged 25.5 points throughout the series. 
But this collective effort from two young stars wasn't enough, as a veteran Rockets team was too good against their opponents. This left Shaq raging in agony, which is a natural feeling an athlete gets after a loss.
"Like I said man, it's just Shaq after that series. I just knew he came back the next year like 'I'm killing everything moving, I'm not sparing anybody,' even though he was already that type of player," Hardaway said. 
O'Neal and Hardaway felt gutted with the loss, as they had just carried the Magic to their first-ever finals. However, the duo learned a valuable lesson from their opponents about how to close out a series when a lot's at stake.
ADVERTISEMENT
Article continues below this ad
"Dream just taught [Shaquille O'Neal] how you have to be when it gets to those levels, and that's what helped Shaq win the three championships that he won," Hardaway mentioned. 
We all know what happened next after Shaq's 1995 loss. He moved to Los Angeles, formed a destructive partnership with Kobe Bryant, and won a three-peat with the Lakers! 
ADVERTISEMENT
Article continues below this ad