Former Tinder VP Shares His Fandom for Michael Jordan, Gets a Huge Dollar Offer for Memorandum
Published 02/15/2021, 10:00 PM EST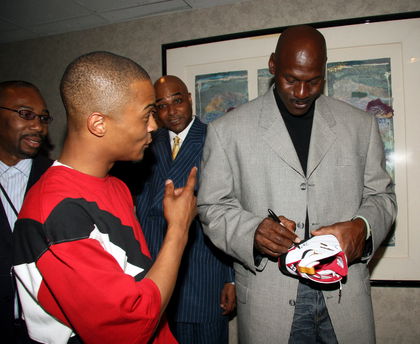 ---
---
Everything that Michael Jordan touches turns into gold and this isn't just a saying but the entire truth of it. His branding is so strong that even almost 20 years into his retirement, anything tagged as MJ sells like a limited edition. It is as if his two decades in the NBA gave him 200 years of immortality.
ADVERTISEMENT
Article continues below this ad
To prove this, one of the best and the latest examples come directly from the former VP of Product, Revenue at Tinder, Jeff Morris Jr. He posted something that speaks volumes on MJ's superpowers.
When a regular teenager enjoyed his Michael Jordan moment
ADVERTISEMENT
Article continues below this ad
Today, Jeff Morris is the founder and Managing Partner at Chapter One. But 20 years ago, he was just a teenager who was in love with Chicago Bulls' Michael Jordan. So one fine day, he was in a hotel when he saw His Airness MJ smoking a cigar. What followed next helped this young teen with a sharp presence of mind create his own memorabilia of MJ. Take a close look –
When I was 14 years old I saw Michael Jordan smoking a cigar at my hotel.

When he finished the cigar, I ran to the trash can and saved the remains.

This frame has hung above my childhood bed for the last 20 years.

Ask me anything. pic.twitter.com/YKGdcObL4X

— Jeff Morris Jr. (@jmj) February 15, 2021
So rather than making a risky attempt to outrun everyone and get an MJ autograph, this child used the resources at his disposal to take home a memory. True, it was not an allowable thing to pick cigar ash and roll it to later paste it on the wall for a teen. But MJ perhaps served as a motivation to this young chap who later became a business force using Jordan's work ethic.
That MJ cigar ash is now an asset for Jeff
Turns out the move was actually very visionary for the young businessman. Just as he posted the picture, he received offers from people ready to place their bid for owning the remains. The businessman later wrote, "I just got a $10,000 offer in my DM's for this cigar".
But this is nothing surprising, given that fans have paid hundreds of thousands of dollars to purchase many of MJ collections. Be it the 'copy' of his first signed contract with the Chicago Bulls, his worn Team USA jersey, those iconic long shorts, or the Air Jordan 1s, everything MJ sells hugely, even today.
ADVERTISEMENT
Article continues below this ad
If given a chance and the kind of money, which MJ memorabilia would you like to bid and own? Share your thoughts in the comments.
ADVERTISEMENT
Article continues below this ad
Read also – Michael Jordan's Backboard Breaking Shoes Sell For Record Sum At Auction