From Emotional Speech About Kobe to NBA All-Star Draft, Here are the Most Watched LeBron James Videos of 2020
Published 12/29/2020, 8:28 AM EST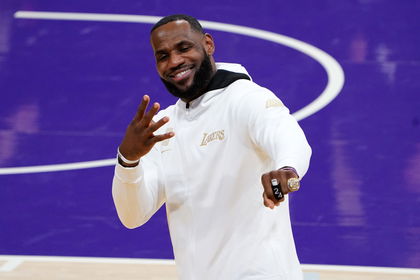 ---
---
Even after being in the league for almost two decades, Lakers superstar LeBron James is yet to slow down. James is a beast, both on and off the court. While on the court, he won the fourth ring of his illustrious career. Off the court, James has unparalleled popularity.
ADVERTISEMENT
Article continues below this ad
Speaking of his popularity among fans from all around the globe, let's have a look at the most watched videos of LeBron James in 2020.
1. If you hate LeBron James watch this – By EuroSteppers
ADVERTISEMENT
Article continues below this ad
Despite being one of the best basketball players of all-time, LBJ is hated by a lot of people. There might be a plethora of reasons for this, but at the end of the day, James is not only a fabulous player but a great human being.
This channel made a compilation of James interacting with NBA fans on the court in between games. Just seeing the reactions of the fans proves it that LBJ made their day by interacting with them, even if it was for a few seconds.
2. I look like a shrimp Between LeBron James, Anthony Davis, & JaVale McGee – By David Blaine
David Blaine is a renowned illusionist known for his insane illusion tricks. In this video, he tried a card deck trick of Lakers' players featuring AD, LBJ, and McGee. Honestly, it was a great trick and left all three players befuddled.
3. LeBron James emotional during National Anthem remembering Kobe – By ESPN
When Kobe Bryant passed away in a tragic helicopter crash, it left the whole world mourning. Furthermore, for the Lakers organization, it was a very tough time. When they returned to their first game in Staples Center after losing Kobe, no one could hold in their emotions.
4. LeBron James gives emotional speech about Kobe Bryant – By House of Highlights
After Kobe's death, LeBron addressed the entire Lakers nation and promised to bring them an NBA title. This was hands down one of the most emotional speeches about Kobe. One can see players and fans trying to hold back their tears during the speech, but ultimately failing to do so.
ADVERTISEMENT
Article continues below this ad
5. Team Giannis and Team LeBron draft | 2020 NBA All-Star – By NBA
The All-Star weekend is always a fun weekend for the league. Since the introduction of the All-Star draft, fans have always been intrigued to see for which team their favorite players will play for. This year was no different for both Giannis Antetokounmpo and LeBron James, who drafted their teams with lots of laughter and a pinch of seriousness.
ADVERTISEMENT
Article continues below this ad
So these were the most watched videos of King James in the year 2020. Which one is your favorite? Do let us know your views in the comments section down below.