From Kobe Bryant's Tribute to More: Taking a Look at Jayson Tatum's Tattoos
Published 09/08/2021, 12:33 PM EDT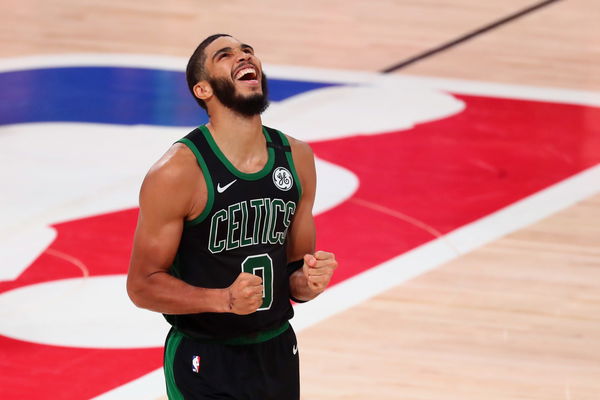 It's not uncommon to find NBA players with tattoos all over their bodies. A player who belongs to this category is Jayson Tatum of the Boston Celtics. Tatum has made a name for himself in the NBA more quickly than expected. He was drafted in 2017 as the third overall pick and has risen to success since then.
However, his love for body art is something that has made headlines for many reasons. Some have critiqued it and some have applauded it. So, it's time to take a quick look at all the tattoos that Tatum has.
Young Jayson Tatum and his mother
ADVERTISEMENT
Article continues below this ad
One can clearly make out how much Jayson Tatum adores his mother with a lovely portrait of the two of them on his left shin. However, the picture is clearly not of recent times and it is JT as a kid hugging his mother, while the two of them are smiling.
A tribute to late rapper Nipsey Hussle
It seems like Tatum does not do small tattoos because he has another huge one on his left calf that says, "I JUST DIDN'T QUIT." For those who are wondering the significance of this quote, is something rapper Nipsey Hussle said, who was rumored to be murdered. This seems like it's a tribute to him.
Number 98 and Duke Jersey
Jayson has been inked so much on his legs that it gets hard to keep track. But this '98' on his left knee definitely symbolizes the year that he was born, which is March 3, 1998.
On the inside of this very leg, he has two jerseys drawn, one which has the number zero and the other has number 22 on it. This latter one is representative of his high school jersey "Chaminade College Preparatory School", while the former one is his college basketball jersey as he played for the Duke Blue Devils.
WATCH THIS STORY: Jayson Tatum's Poster Dunk on LeBron James, Allen Iverson's Iconic Crossover on Michael Jordan & Other Instances When Rookies Made a Fool of NBA Superstars
JT and his son
Let's get to the thighs. On his left-hand side, there is another huge portrait of him, but this time, with his son. In this incredible illustration, Tatum's jersey is clearly visible, in which he is holding a little boy. It also has a caption below that says, "Like father like son."
St. Louis tattoo
On the right thigh, Tatum has paid a tribute to his hometown St. Louis, Missouri. It looks like some kind of an explosion with the words "St. Louis till the world blows."
God's will
This one clearly shows Jayson is quite religious and has faith in god. Across his upper back in bold and gigantic font, are the words 'GODS PLAN' etched. Right below it, it also states, 'Proverbs 3: 5-6'.
As per Bible Gateway, the verse means:
Trust in the Lord with all your heart
and lean not on your own understanding;
in all your ways submit to him,
and he will make your paths straight
Unfortunately, this one drew a lot of criticism because of the incorrect grammar used. There was no apostrophe the letter 'D' in 'Gods' and became a meme all over social media. In fact, he was under scrutiny for consistently messing up grammar here and there.
ADVERTISEMENT
Article continues below this ad
Homage to Kobe Bryant
When Kobe Bryant passed away in that horrible helicopter crash, fans, teammates, and family couldn't help but remember the legend in their own way. Some even paid homage to him in different ways, like the Lakers when they won the NBA Championship. Tatum didn't hold back from doing the same. He got Kobe's jersey number '24' on his left leg.
ADVERTISEMENT
Article continues below this ad