From Michael Jordan to LeBron James, 7 NBA Players Who Starred in Successful Hollywood Movies
Published 01/30/2021, 8:54 PM EST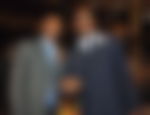 ---
---
If an introverted NBA player has an outstanding career record, it is an occupational hazard for him to act for advertisements and play cameos in Hollywood movies. However, if it's a player who is keen on building a bigger brand value, these acting getaways are the cherry on the cake. And fortunately, there are a handful of such outliers, with LeBron James being the most recent addition.
ADVERTISEMENT
Article continues below this ad
These players always bring something special on the silver screen. It's not just about their size and athleticism, but also about the aura that they have developed over the course of their careers.
The presence of names like Michael Jordan or Kevin Durant, even if it's a mere cameo, can work wonders. Let's check out NBA's list of movie stars.
ADVERTISEMENT
Article continues below this ad
#8 Kobe Bryant: Special mention
It is not hard to believe that Kobe Bryant was exceptionally creative even outside the Basketball bubble. The 5-time NBA Champion and 2-time Olympics Gold medalist also won an Oscar award in the Best Animated Short Film Category for Dear Basketball. The movie was based on a poem the Black Mamba wrote before his retirement in 2015, and he shared the award with animator/director Glen Keane. 
#7 Kevin Garnett in Uncut Gems
This is perhaps one of the greatest movies with an NBA player in the supporting role. The dark comedy released in 2019 showcased a crazy jeweler's life of betting and somehow involved the Boston Celtics' big man, Kevin Garnett. It's certainly a must-watch if you liked Pulp Fiction.
#6 Ray Allen in He Got Game
In an extraordinary tale about a gifted son and his convicted father, this movie is a classic Basketball flick with a gripping storyline. Ray Allen was just 22-YO when this movie released, and he played the son of star Denzel Washington who would do anything to inspire him to become a baller.
#5 Kevin Durant in Thunderstruck
Perhaps one of the funniest movies on the list, this 2012 film is a perfect family picture. In this, OKC's rising sensation, Kevin Durant, magically loses all his basketball superpowers to a random kid-next-door, while his agent struggles to bring it back. KD totally nailed it with his comic timing and natural acting. You can catch this one on Netflix.
#4 Kyrie Irving in Uncle Drew
Following KD's footsteps, his Brooklyn Nets big 3 counterpart, Kyrie Irving, played a hilarious part in the 2018 movie, Uncle Drew. Kyrie played a 70-YO Uncle Drew with an alter ego just like Eminem's Slim Shady. The movie also starred Chris Webber, Charles Barkley, and Nate Robinson, among others.
#3 Shaquille O'Neal in Grown Ups 2
Even if someone does not watch this movie, they must at least Google and observe Shaq's look. He played Officer Fluzoo in the movie and his semi-bald look took the audiences for a laughing riot.
#2 Michael Jordan in Space Jam
This family comedy perhaps launched basketball to the world of movies. It had an interesting plot where a retired Michael Jordan would team-up with Bugs Bunny (Looney Toons) and try to defeat a criminal group. The movie had other big names in the cast, but it was MJ who single-handedly made it a popular tale.
#1 LeBron James in Space Jam: A New Legacy
ADVERTISEMENT
Article continues below this ad
Taking the GOAT's legacy further, and arguably even bigger, is LeBron James. This sequel to the 1996 movie is going to hit the theaters just as the NBA season 2020-21 will conclude. Just imagine if Bron wins his 5th career championship, and this movie releases with that boost!
Now that you have the list, which movie are you planning to watch this weekend? Help us know in the comments.
ADVERTISEMENT
Article continues below this ad
Read Also – 'Icon That Transcends Sports': NBA Analyst Puts Kobe Bryant On The Same Pedestal as Michael Jordan