'From Opponents to Teammates to Brothers': Matt Barnes Details How Kobe Bryant Invited Him to Lakers
Published 04/09/2021, 6:30 AM EDT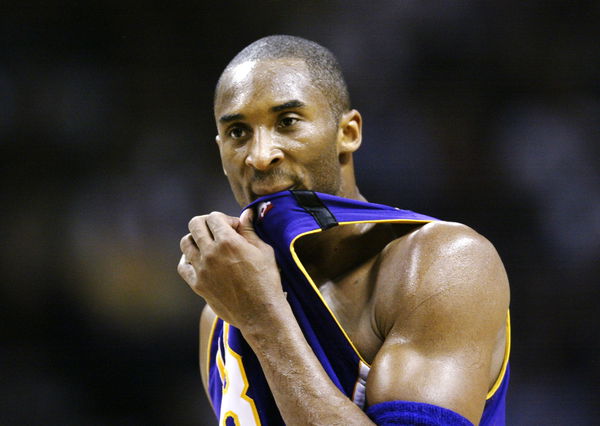 ---
---
Drafted in 2002, Matt Barnes' journey in the NBA has been a memorable one. He has played the most elite teams in the league – from the LA Clippers, Golden State Warriors to the Philadelphia 76ers' and many more. However, he had also made a pit stop for two seasons, playing for the Los Angeles Lakers. In fact, he was one of the few lucky ones to have been given an opportunity to play with Kobe Bryant.
ADVERTISEMENT
Article continues below this ad
Kobe passed away last year in a helicopter crash that also took the lives of his daughter Gianna Bryant and seven others. Since then, many people have come out in the open to talk about what the legend was to them. And now, it's foe turned friend, Matt Barnes' turn.
Matt Barnes' friendship with Kobe Bryant
ADVERTISEMENT
Article continues below this ad
It all started with an iconic 'No flinch ball fake', that actually impressed Kobe and got Barnes to play with the Lakers. In a recent interview, Barnes opened up about how his relationship with Kobe began.
"I met him in 98′ when I went to UCLA. Him coming to LA at 18, he was young. He was at UCLA all the time and we would see him, he would play pick-up games in the summertime. He would work out and I would sneak back and watch him train. So, it kind of became like, 'I have to guard someone like this someday to eventually make it in the league," narrated Barnes.
Then, he opened up about the kind of bond they had and how he ended up playing for the Lakers. He said, "Just respecting each other every time. We played each other and I really looked forward to it. It kind of came to a head in Orlando, 2010, with the ball fake."
"And after that season, he called me up and literally said, 'Anyone crazy enough to fuck with me, is crazy enough to play with me Do you want to be a Laker?'. Literally three days later, I was a Laker. So we went from opponents to teammates to brothers… I got a chance to really know him as person, not just as a basketball player," Matt explained.
The famous Ball fake
The incident goes back to a matchup between Orlando Magic and Lakers. Barnes was only part of Orlando for one season because this game changed his fate.
It was in the third quarter that Barnes was about to inbound the ball when instead he ended up fake throwing the ball just millimeters away from Kobe's face.
Although Barnes was trying to get a reaction out of him, Kobe did not even flinch. This ended up becoming an iconic moment, and it was after this that Bryant was so impressed, and he made that phone call to Matt.
ADVERTISEMENT
Article continues below this ad
Can you imagine that this is what it takes to impress a great player like Kobe? Well, anybody can play but who doesn't like a teammate that doesn't fear anybody despite their reputation. That was Barnes, for Kobe.
Read also- 'Couldn't Sleep When I Seen Him': Former Teammate Reveals Interesting Kobe Bryant Story off the Court
ADVERTISEMENT
Article continues below this ad
Trending Stories