Furious Charles Barkley Suggests Violence on Live TV After Chris Paul's Ugly Controversy With Rude Fans
Published 05/09/2022, 11:00 AM EDT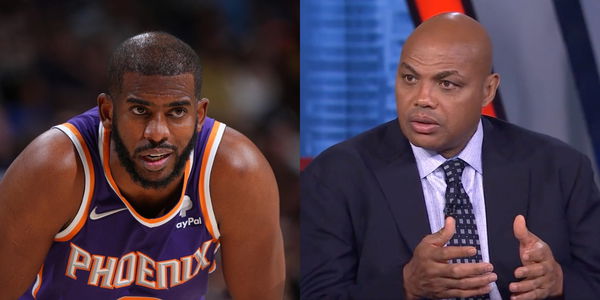 A major controversy just struck the second round of playoffs between the Phoenix Suns and the Dallas Mavericks. During the match, Suns star Chris Paul lashed out after fans harassed his family members.
Safe to say, this incident made headlines all over the world. Paul himself tweeted regarding the issue and received a lot of support from all around the basketball world.
ADVERTISEMENT
Article continues below this ad
Interestingly enough, Phoenix Suns legend and eminent analyst Charles Barkley has a solution for the rising fan harassment cases in the NBA.
WATCH THIS STORY: 3 Times James Harden Choked in the NBA Playoffs
According to the Hall of Famer, any fan disrespecting the player or their families should be brought down to the center court for 5 mins. Furthermore, he reveals how he would give the fans a taste of their own medicine, indulging in such actions.
NBA legend gives an interesting remedy for the Chris Paul situation
The Phoenix Suns vs the Dallas Mavericks game took an ugly turn. In a video doing the rounds on social media, star Point Guard Chris Paul lashes out at a fan wearing a Mavs jersey.
This comes after allegations of harassment by Paul's family. According to sources, the fan allegedly pushed Paul's mother and wife in front of his children.
After hearing about this incident, Paul lashed out at the fan. The video shows him shouting, "Hey! Hey! Hey! I'll see you later! I'll see you later!" while the officials escort the fan out of the arena.
Talking about the incident, NBA legend Charles Barkley gave his thoughts. Interestingly enough, the Hall of Famer suggested the use of violence on such fans.
Chuck said, "I've always said, we can just put an end to all this stuff, some of these stuff these fans say, let's take them right down to the center court for five minutes. Say what you just said right to my face, right here for these 5 minutes."
ADVERTISEMENT
Article continues below this ad
He added, "I'm going to beat the hell out of you. I'm gonna take my time, I'm not gonna beat them up quickly. I'm gonna jab up a little bit, then I'm gonna lay the haymakers on their a**."
Following this incident, the Dallas Mavericks administration acted quickly as they removed the fan from the arena. This incident took most of the headlines from a crucial 111-101 win for the Mavericks over the Suns.
ADVERTISEMENT
Article continues below this ad
After 4 games between them, the series is tied at 2-2. However, the Mavericks carry the momentum into Game 5 as they come off the back of 2 spectacular victories.