Getting His "B*tt off the Bench" Advice for 76ers Star Makes NBA Fans Unite for Giannis Antetokounmpo: "Only Hope… Move to China"
Published 11/23/2022, 2:30 PM EST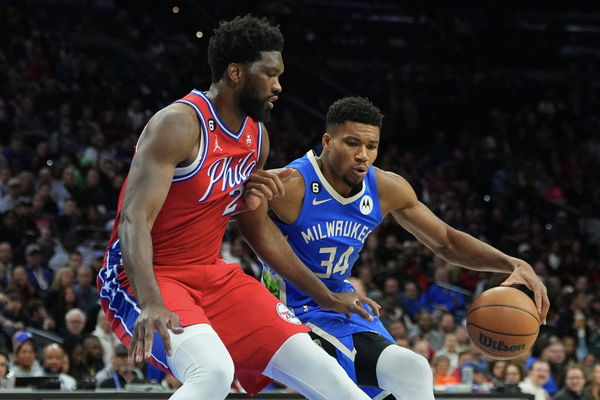 The matchup between the Milwaukee Bucks and the Philadelphia 76ers had the much-anticipated battle between Giannis Antetokounmpo and Joel Embiid. However, it is Giannis' antics off the court that took all the headlines.
ADVERTISEMENT
Article continues below this ad
After the game, Antetokounmpo wanted to practice some free throws. However, 76ers backup center Montrezl Harrell denied him the opportunity to do so, which resulted in an altercation. With the NBA world talking about this issue, a former NBA player bashed Harrell for his actions which have compelled fans on Twitter to jump into the conversation.
ADVERTISEMENT
Article continues below this ad
After confrontation with Giannis Antetokounmpo, 76ers player trolled by fans on social media
Montrezl Harrell and Giannis Antetokounmpo have been all over the news for all the wrong reasons recently. They had an ugly altercation after their match recently, that started with Giannis wanting to practice free throws.
Harrell took the ball from the Greek Freak and refused to give it back. Subsequently, a verbal altercation ensued between them. Shortly after, Giannis left the court and returned with two basketballs in order to practice.
However, he was denied once again as a staff member put a large ladder right in front of the hoop. A visibly frustrated Antetokounmpo pushed the ladder causing it to fall down. The clip of this chaotic altercation has since went viral on the Internet. And it now has the whole world talking.
Recently, former NBA player, Eddie Johnson, sided with Antetokounmpo on the issue. In fact, he said, "What is wrong with you? You should have been trying to get some advice on how to get your butt off the bench."
Meanwhile, fans flooded social media with their reactions and opinions. Here are some of the best reactions to Johnson's statement.
His only hope to get off the bench is moving to China sadly

— TwoT 🇺🇦 (@BrettWith2T_) November 22, 2022
Harrell flexes on every basket he scores… A.k.a two baskets… So much potential wasted… Even in summer runs he flexes…

— kevin santiago (@Ksteezysantiago) November 22, 2022
The fact that some Sixers fans are such homers that they think Montrezl was even remotely in the right is scary

— tooforwon (@tooforwon241) November 22, 2022
I mean Giannis can't even get his own brothers butt off the bench what makes you think he can help Trez

— Tottenham Takes🔥 (@AnotidaMadziwa1) November 22, 2022
Giannis played more minutes in Philly than Trez this entire season

— xch4rdz (@ch4rdzy) November 22, 2022
As the above reactions suggest, fans are siding with the former NBA champion and two-time MVP in this situation. 
Antetokounmpo had a horror show from the free throw line
ADVERTISEMENT
Article continues below this ad
The Milwaukee Bucks faced the Philadelphia 76ers in a much-hyped match recently. The 76ers dominated the game to win 110-102 on their home court.
Antetokounmpo had a shocking outing in terms of his free throws. He shot 4-of-15 from the line during the game and he ended the game with 25 points, 4 assists, and 14 rebounds. On the other hand, Joel Embiid dominated and had 32 points, 8 assists, and 11 rebounds. (Source: ESPN)
ADVERTISEMENT
Article continues below this ad
WATCH THIS STORY: His Exquisite Double-Pump Layup, 50-Point Display in an NBA Finals Game & Other Times When Giannis Antetokounmpo Reminded Why He is The 'Greek Freak'
What are your thoughts on the Giannis Antetokounmpo and Montrezl Harrell issue? Let us know in the comments down below.
Edited By: Satagni Sikder