Giannis Antetokounmpo and Rudy Gobert Headline Star Studded List For Embarrasing Record This Season
Published 02/16/2021, 10:11 AM EST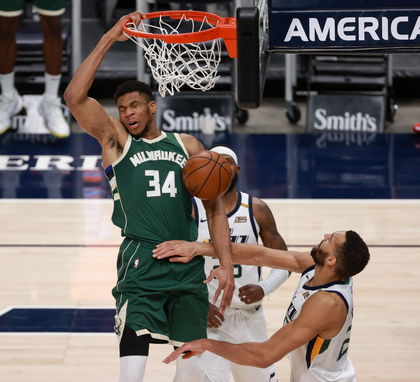 ---
---
Giannis Antetokounmpo may be a two-time MVP and reigning Defensive Payer of the Year. Rudy Gobert may be a two-time defensive player of the year and the holder of a massive contract. But they are struggling on one crucial end of the court, with a host of other elite players next to them.
ADVERTISEMENT
Article continues below this ad
We are talking about free-throw shooting. The most fundamental part about playing basketball is shooting the ball, and free throws are the easiest to make. There is a reason the phrase 'easy as shooting a free throw' exists. However, many elite players have struggled with it throughout their careers.
Giannis Antetokounmpo Last 5 Games from the Free Throw line ⬇️

Feb 3rd vs IND: 7-8
Feb 5th @ CLE: 6-8
Feb 6th @ CLE: 7-11
Feb 8th @ DEN: 6-8
Feb 10th @ PHX: 17-21

Totals: 43-56 (77%)

63.3% season average , hope to see this continue! #GreekFreak | #FearTheDeer pic.twitter.com/T855nxjGNY

— Cream City Central (@CreamCityCtral) February 11, 2021
ADVERTISEMENT
Article continues below this ad
Four of the five worst free-throw shooters this season are former all-stars. Rudy Gobert is the worst at 56%, followed by Andre Drummond of the Cleveland Cavaliers (for now) with 59%.
Third on the list is Orlando Magic star Aaron Gordon with 61.3%. Former MVPs Giannis Antetokounmpo and Russell Westbrook finish the list off with averages of 61.7% and 61.8% respectively.
What is worse is that they are followed up by former all-star Ben Simmons and 2014 number one overall pick, Andrew Wiggins. Free throw shooting seems to be an expendable skill amongst the top players in the league.
Giannis Antetokounmpo: How does this look for him in particular?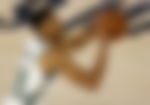 While all the players on that list are top-level players in the NBA, Giannis is on another plane. He is fighting it out for the title of the best in the league. He seems to have lost that distinction in the league within one playoff run after winning the MVP and DPOY simultaneously.
ADVERTISEMENT
Article continues below this ad
His shooting has proven to be the biggest issue this season. He has missed countless free throws in the clutch. Even though his free throw shooting has improved over the last few games, his regular shooting has suffered and the Bucks are on a three-game slide right now.
ADVERTISEMENT
Article continues below this ad
As for the others, none of them outside Gobert are on an elite contending team this season. Gobert has been doing his job as the Jazz are on a 19-1 run over their last 20 games, four more games than Milwaukee has won on the season.