Giannis Antetokounmpo Explains How Teams Building Walls for Him Helped Him to Trust His Teammates More
Published 07/14/2021, 4:27 AM EDT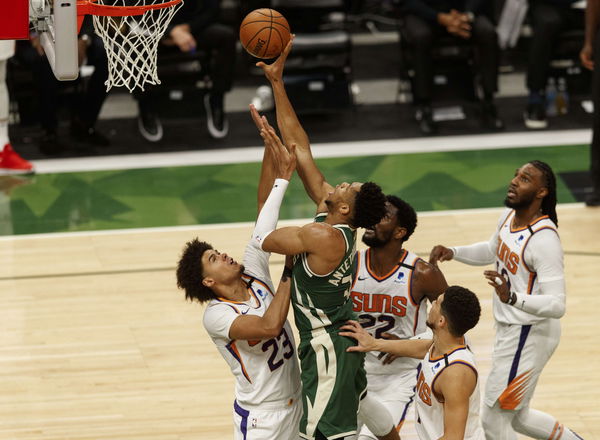 ---
---
Milwaukee Bucks will play in game 4 of the NBA finals tomorrow against the Phoenix Suns. While they are surely a great team, Giannis Antetokounmpo is the main reason for their success. The 2 time MVP has now put up back-to-back 40 point performances in the NBA finals.
ADVERTISEMENT
Article continues below this ad
Recently, after game 3, Chris Paul said that they need to form a wall in order to stop Giannis Antetokounmpo in these NBA finals. Now, before game  4, Giannis answered questions regarding him dealing with 'the wall'.
ADVERTISEMENT
Article continues below this ad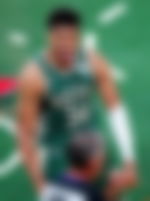 Giannis Antetokounmpo on what he learned from 'the wall'
When asked about 'the wall', Giannis spoke about how he has become better at reading the defense and trusting his teammates through time, seeing this kind of defense built just for him. He said:
"The first time I saw 'the wall, was probably two years ago. But I was always a capable passer before that and it's something that I always like to do. I had the coaches and people throughout my career that helped me with like finding the right guy, finding the right pass, making the right play."
On a similar point, I asked Giannis Antetokounmpo about how he has improved at seeing a defense's wall.

Giannis broke down seeing "the wall" for the first time, how he's better against it now and how he has learned to not take it personally while also trusting his teammates. pic.twitter.com/obf1pQ2oXL

— Kellan Olson (@KellanOlson) July 13, 2021
Giannis Antetokounmpo then spoke about how at first it was difficult to trust his teammates, and how he has developed his trust now.
Giannis said, "Once I started seeing the wall two years ago, now it's about trust and it's kinda hard. Because you wanna be effective, you wanna get downhill, you wanna do everything. You take it personal also like there is a team that is building a wall of 3 people and 2 guys behind them or whatever it might be to try and stop you. And now you have to not take it personal and make the right play, find the right guy. I feel like I did that better since two years ago and now I'm doing it better, I'm trusting my teammates, I'm finding guys."
He further added that he thinks it is funny how there is a defense called the 'Giannis wall' to stop him.
Has 'the wall' benefitted Giannis?
Giannis Antetokounmpo mentioned that he saw the wall 2 years ago. Interestingly, that was the first time he won the MVP award. He won yet another MVP award the following year as well. While we know that Giannis is a dominant force offensively, it is his playmaking that developed through seeing these kinds of defenses.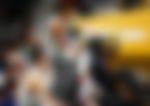 The 'Greek Freak' is averaging almost 6 assists per game since seeing 'the wall'. This is a great improvement compared to the 2017-18 season where he averaged 4.8 assists. It has helped him understand the game outside of scoring points. Now, with reliable pieces around him like Jrue Holiday and Khris Middleton, he has learned how to trust his teammates to deliver when he can not.
However, that has not affected his scoring ability at all. His offensive numbers have only kept increasing since winning the MVP and he is now the centerpiece of the Bucks organization. Currently, he is leading them in points for the playoffs with 29 per game, while averaging 5 assists a game as well.
ADVERTISEMENT
Article continues below this ad
He has improved year after year on all aspects of his game which is why he is such a force to reckon with. Heading into game 4 at the Fiserv Forum, Giannis Antetokounmpo & co will now try and level the series.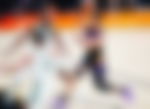 Do you think Milwaukee Bucks will win the NBA finals? Let us know in the comments below.
ADVERTISEMENT
Article continues below this ad
WATCH THIS STORY- Giannis Antetokounmpo's Historic 42-Point Performance, Devin Booker Raining Three's & Other Milwaukee Bucks vs Phoenix Suns Game 2 NBA Finals Highlights