Giannis Antetokounmpo & Khris Middleton Create History in Bucks' Game 3 Win Over Nets
Published 06/10/2021, 10:58 PM EDT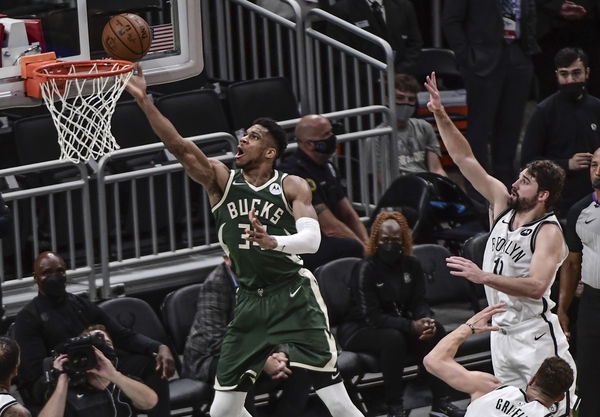 ---
---
After taking two demolishing losses against the Brooklyn Nets, the Giannis Antetokounmpo led Bucks are finally on the board. The Bucks defeated the Nets 86-83 in a defense-heavy game and proved that they're the underdogs that can bite. 
ADVERTISEMENT
Article continues below this ad
The two most sharply pointed antlers of the Bucks, Giannis and Khris Middleton, pierced through their rivals. They held their ground in their home game at Fiserv Forum and showed that the series is not ending in four games. As the crowd held banners saying, "Fear the Deer", the Nets felt that terror.
Giannis Antetokounmpo and Khris Middleton created history
ADVERTISEMENT
Article continues below this ad
The game on Thursday night felt as if it was two-on-eight, with two players from the Bucks roster playing against eight of the Nets'. Giannis Antetokounmpo and Khris Middleton combined for an insane 68 points, 29 rebounds, and 3 assists to complete the night. So in a way, they registered 79% of the team's total points and 51.8% of the squad's total rebounds.
It looked more like a changed game plan from Mike Budenholzer who perhaps asked the duo to refrain from assisting. They took their chances, stayed extremely efficient and offensive in their shotmaking, and that reaped them the top results. If only the Greek Freak had a better night from the free-throw line, this percentage would've been even greater.
How the Bucks tamed the Nets in the dying minutes
Apart from this amazing duo, Brook Lopez was one other name that stunned the Nets with his defensive abilities. The 7-footer center used his wingspan to its top potential and ensured six productive blocks that became the difference between their win and the Nets' loss. 
ADVERTISEMENT
Article continues below this ad
With the Bucks trailing 82-83 and just 12 seconds remaining into the expiring game clock, Jrue Holiday came in handy. The man got to his spin move and completed a contested layup to give them a clutch lead. After that, a series of fouls from the Nets and a sharp free-throw conversion from Middleton ensured Bucks a formidable lead.
Yet, hearts must have skipped a beat when Kevin Durant went for a buzzer-beating three-pointer to tie the game. He failed, and with that, the Nets lost their second game in the NBA Playoffs 2021. KD and Kyrie Irving combined for 52 points but to no avail and this night proved that James Harden must come back to save them from another drop.
Do you think the Bucks can repeat this in Game 4? 
ADVERTISEMENT
Article continues below this ad
Watch this story – Players Who Had Heated Moments in the Playoffs