Giannis Antetokounmpo Leads Milwaukee Bucks to a Title a Year After James Harden Said He Had 'No Skill at All'
Published 07/21/2021, 2:36 AM EDT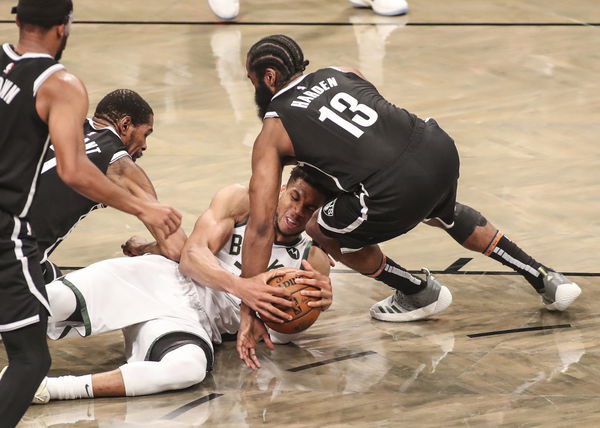 ---
---
Back in December 2020, almost every NBA pundit was certain that the Brooklyn Nets were an invincible unit. However, a mixture of poor fate, complacency, and a tremendous series from Milwaukee Bucks saw them losing the Eastern Conference semifinals. So in a way, the Bucks deserved to win the finals because they had eliminated the best roster in the league.
ADVERTISEMENT
Article continues below this ad
If anything, the Bucks vs Nets series was a clean Giannis Antetokounmpo vs Kevin Durant tie. In that series, the Freak averaged 31.9 as opposed to KD's 35.4 points. But even as Giannis failed to individually beat his childhood idol in KD, he did beat James Harden.
ADVERTISEMENT
Article continues below this ad
Giannis Antetokounmpo proved a point to James Harden's remarks
Many critics believe Giannis lacks class and also that The Beard has more diverse skill sets. In fact, a year ago, the Nets guard had himself infamously claimed in an interview, "I wish I could be 7-feet, run and just dunk. That takes no skill at all." In the series against Milwaukee, Harden pulled his hamstring and played below his full potential. So it would be wrong to compare them both on the basis of that particular series. 
Now, considering an NBA game is won/lost on the basis of points, the end score becomes the most important parameter. So a given athlete's skills should take the shape of points on the box score. With that in mind, one must note that Giannis' 50 points in Game 6 against the Suns were his career-high and also more than Harden ever scored in his 12 playoff seasons.
That sarcasm hidden in the post said more than a thousand words, proving Harden wrong.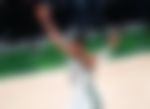 What else makes The Freak better than The Beard in the postseason?
James Harden has played a total of 137 playoff games in his career against Giannis Antetokounmpo's 64. Now, Giannis, without being part of any superteam (unlike Harden) has won an NBA Championship while The Beard has not played an NBA Finals in nine years. 
In terms of postseason averages, the 26-YO leads Harden in points, rebounds, and blocks. The highest ever playoff score (45 points) from Harden came in 2015 against the Warriors, in a series they eventually lost. Plus, the Bucks leader's FG% of 53.3 is also 10%+ more than Harden's 42.8.
ADVERTISEMENT
Article continues below this ad
So the narrative that Giannis is everything only because of his athleticism and power is not entirely true. Most critics of the Freak fail to understand that using one's athleticism to advantage is also a skill. Moreover, it took Giannis to live in the weight room in order to build that physique which Harden is miles away from achieving. 
Now, this is not to suggest that The Beard is not great in his own way, but this is just to pay respect to Giannis and his improving self. The fact that he still tries to score threes, get his FTs, and rule the paint like Shaquille O'Neal must also add to his praise.
Do you agree/disagree with the assessment? Help us learn in the comments below.
ADVERTISEMENT
Article continues below this ad
Watch this story – Giannis Antetokounmpo Most Heated Moments Over the Years