'Giannis O'Neal!!': Kendrick Perkins & Others React to Giannis Antetokounmpo and Bucks' NBA Finals Game 3 Win vs Suns
Published 07/11/2021, 11:01 PM EDT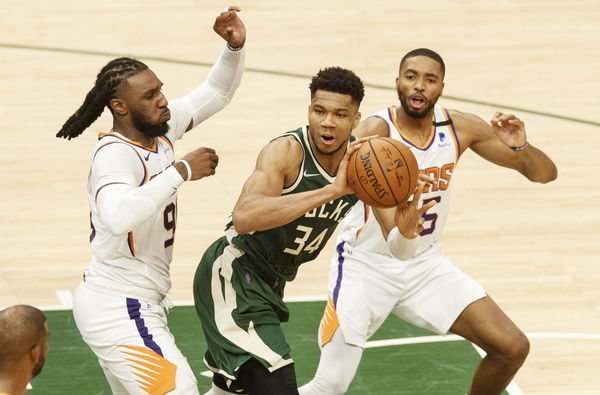 ---
---
The Phoenix Suns entered Game 3 against the Milwaukee Bucks with hopes of gaining a 3-0 lead in the NBA Finals. But the Milwaukee Bucks survived another night with a win that is going to keep their hopes of a title alive. Looks like playing in front of their own fans motivated them to avoid a 3-0 hole with a 120-100 victory. And now that the Suns' dreams of a sweep have been crushed, how is the NBA world responding?
ADVERTISEMENT
Article continues below this ad
Milwaukee Bucks recovering from a 2-0 deficit
The Bucks already proved that they could come out of a 2-0 deficit in the playoffs after they bested the Brooklyn Nets in the Eastern Conference Finals. And it's possible that history might repeat itself. They are now a win away from tying the series after their victory in Game 3.
ADVERTISEMENT
Article continues below this ad
The Suns' secret to winning Games 1 and 2 was their incredible offensive prowess. Devin Booker, Chris Paul, DeAndre Ayton, and Mikal Bridges were becoming too much for Milwaukee to handle. However, the tables turned tonight. The Bucks' trifecta, Giannis Antetokounmpo, Jrue Holiday, and Khris Middleton played on another level.
While Giannis put up a whopping 41 points, 13 rebounds, and 6 assists, Khris and Jrue combined for 39 points too. Everyone had predicted that if Giannis got more help in dropping buckets, it could prove to be a nightmare for the Suns. And that's exactly what happened. Here's how the NBA world is reacting to Milwaukee's comeback.
Giannis with another DOMINANT performance tonight. Another 40 piece wing dinner Greek Garlic style with 13 Bobotas and 6 slices of Greek Honey Cakes!!! Carry the hell on…

— Kendrick Perkins (@KendrickPerkins) July 12, 2021
Dbook will be fine. This off nights happen.. He will be better game 4

— Matt Barnes (@Matt_Barnes22) July 12, 2021
T.O.D 9:24 CST Series PHX 2-1 MIL

— Richard Jefferson (@Rjeff24) July 12, 2021
Jrue Holiday came to hoop today.

— Thon Maker ™ (@ThonMaker14) July 12, 2021
Game 3 has been all Giannis free throws lol

— Terrence Ross (@TerrenceRoss) July 12, 2021
Giannis O'Neal!!! Jesus Christ.

— Kendrick Perkins (@KendrickPerkins) July 12, 2021
how is milwaukee not playing bryn? love teague but bryns gotta play before him

— SLOWMO (@KyleAnderson5) July 12, 2021
WATCH THIS STORY: Giannis Antetokounmpo's Historic 42-Point Performance, Devin Booker Raining Three's & Other Milwaukee Bucks vs Phoenix Suns Game 2 NBA Finals Highlights
Should the Phoenix Suns worry about a miraculous upset?
The Phoenix Suns started off leading the game as their backcourt outperformed the Bucks' in the first half. But the second quarter was a game-changer for Giannis and Co. They got their first double-digit lead, not of the game, but of the series in the second quarter.
Not only that, but Giannis was also terrific from the foul line. He went 10 of 13 which is the best Milwaukee could have hoped for keeping his track record so far. All of three quarters, the Bucks came out as the better team.
ADVERTISEMENT
Article continues below this ad
Phoenix Suns' Devin Booker could only add 10 points tonight, with Chris Paul as their lead scorer at 19 points, DeAndre Ayton and Jae Crowder were making some contributions too. The only thing fans were worried about was the Bucks closing the game without tanking their 20 points in the fourth quarter, but that went smoothly too.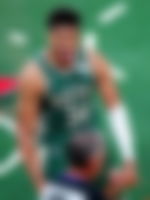 Will the Bucks tie this series in Game 4 and crush the Suns' dreams of winning their first NBA championship? Or will this just be dismissed as a lucky night and the Suns will take it from here and finish off the series in Game 5?
ADVERTISEMENT
Article continues below this ad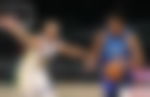 Trending Stories