Gilbert Arenas Exposes Millionaire NBA Baby Mamas: "These Children Are Turning 18, There's No Fu**ing Money!"
Published 12/18/2022, 11:50 AM EST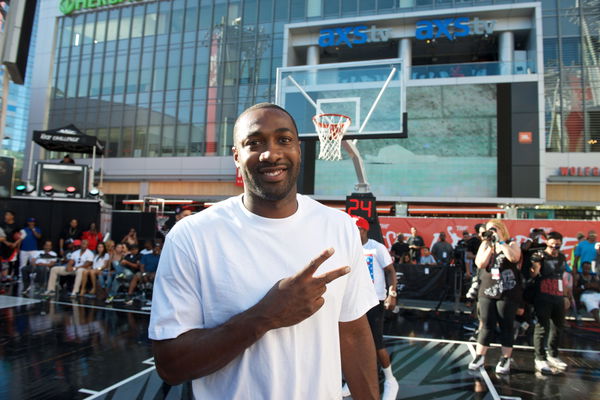 Former NBA star Gilbert Arenas recently shared his opinion on Kanye West having to pay his ex-wife Kim Kardashian $200k per month in child support for their four kids. The controversial NBA veteran recently argued against the child support practices that are followed in the country. He also suggested some changes that could ultimately benefit the kids in the future. Moreover, Arenas also ended up exposing the 'NBA Baby Mamas' while talking about the Kanye West-Kim Kardashian controversy.
In his recent interview with VLAD TV, Gilbert Arenas claimed that the child support system was 'outdated' and 'corrupted'. Moreover, Arenas could not seem to understand the point behind child support as Ye and Kim are both ultra-wealthy. The former Washington Wizards star clarified that he understood the logistics behind the process. But, he still could not wrap his head around how child support was relevant in Kim Kardashian and Kanye West's case. 
ADVERTISEMENT
Article continues below this ad
Arenas questioned the purpose of $200k child support for Kardashian, who has net worth of $1.8 billion. The NBA veteran stated, "She makes too much money to say, all right, I need child support. What is her $200,000 gonna do."
Arenas exposes NBA baby mamas
Gilbert Arenas called out the extravagant and overindulgent lifestyle of 'NBA Baby Mamas', who had 'touched millions in child support.' He suggested that the lavish lifestyle of NBA Baby Mamas, dependent on child support, often leads to no money being left for the children when they turn 18.
"Think of all these NBA baby mamas, they have touched millions in child support. Child turns 18-there's no money for them. The done spent it on Birkin bags and trips," he added.
Moreover, the NBA veteran also suggested that Kanye paying Kim child support was like rapper Jay-Z paying Beyonce child support. Arenas pointed out that rapper 50 Cent paid his former wife millions in child support for their son. He argued that the money could have created new wealth and capital for their child if it was saved properly.
Gilbert Arenas suggests a new system for child support payments
ADVERTISEMENT
Article continues below this ad
Gilbert Arenas suggested the idea of having trust funds set up for the child support payments of star kids. He shared that half of the child support should go to the mother taking care of the child's needs and the other half to an account that can only be accessed by the child upon turning 18. 
Arenas indicated that the money accumulated in the account would actually benefit the children to establish themselves as adults. Moreover, the NBA star added, "The child support that the father has paid all these years actually benefits them in real time. These children are turning 18, there's no f**king money."
ADVERTISEMENT
Article continues below this ad
WATCH THIS STORY: Top 5 NBA signature celebration moves, LeBron James, Stephen Curry, Michael Jordan, and more
Thus, Arenas took a dig at NBA Baby Mamas while sharing his opinion on the child support controversy. What do you think about Arenas' take? Let us know your thoughts in the comments below!
Edited By: Satagni Sikder