'Giving Me a Cheat Sheet': Suns' DeAndre Ayton Explains How Chris Paul Helped Him to Take On Top NBA Players
Published 07/06/2021, 7:30 AM EDT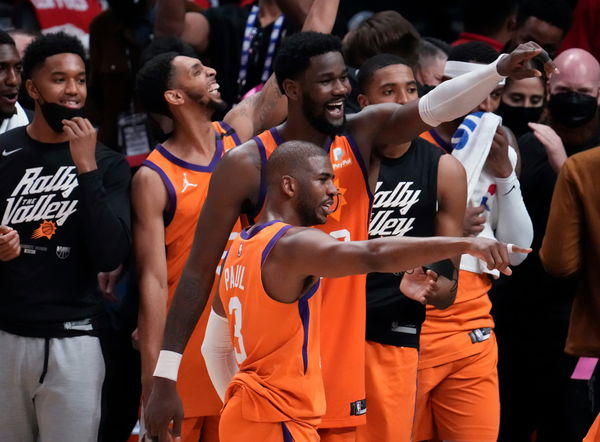 ---
---
The Phoenix Suns might be a few games away from creating history for their franchise. But the man most instrumental in their success is none other than Chris Paul. In fact, his story isn't very different from that of the Suns. After 17-years of hard work and establishing himself as one of the greatest point guards in the NBA, he will have a real shot at lifting the championship trophy.
ADVERTISEMENT
Article continues below this ad
It's very evident to anybody who has watched the Suns this season that a winning culture has been embedded. The face of their offense has also taken a big turn for the better. That's all because of Chris Paul. Even his teammates seem to excel under his leadership and if that's hard to believe, hear it from DeAndre Ayton himself.
A godsend for DeAndre Ayton?
ADVERTISEMENT
Article continues below this ad
In an interview, DeAndre Ayton was asked when he felt like he had the game figured out much better. Without any hesitation, Ayton stated, "To be honest, when CP got here. He kind of started giving me a cheat sheet on some of the guys that I go up against in some matches and my rivals. And just telling me tendencies of great players and great teams."
Ayton accepted that his willingness to become better and compete also came because that's who he is as a person. But it was Chris Paul who gave him the necessary pieces he needed to get a better sense of the game. "It was just perfect. It all fell in place for me. That's when it started to slow down and I started to take advantage of the games with my presence," Ayton concluded.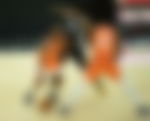 WATCH THIS STORY: Chris Paul, Russell Westbrook & Other Offseason Trades That Have Proved to be a Blessing in Disguise
Chris Paul gave Ayton the advice of a lifetime
Ayton hasn't ever hidden how much CP3 changed his life since he came to the Phoenix Suns. But when asked about the most important advice the vet gave him, De'Andre said, "It was simple advice. He was like, 'The most important thing that's going to keep you in this league, that's going to get you paid, is one word."
Ayton was surprised and couldn't fathom what word this could be. He said, "'Angles'. I am like Angles? What do you mean angles? So just telling me how both of us can get freed up out of the pick and roll. How I could set good screens for Booker, slip out, and stuff like that. And here I am, just getting dunks. Just feeling comfortable on the court. Knowing where I am at and knowing what I am doing."
ADVERTISEMENT
Article continues below this ad
Chris' presence may have made them a championship-contending team. But will he also be able to help them carry the Larry O'Brien Trophy home? Well, that's yet to be figured out.
ADVERTISEMENT
Article continues below this ad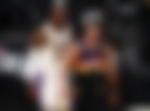 Trending Stories