'Go to Sleep': Utah Jazz Star Reacts to Bam Adebayo's Game Winner Against Brooklyn Nets
Published 04/18/2021, 9:26 PM EDT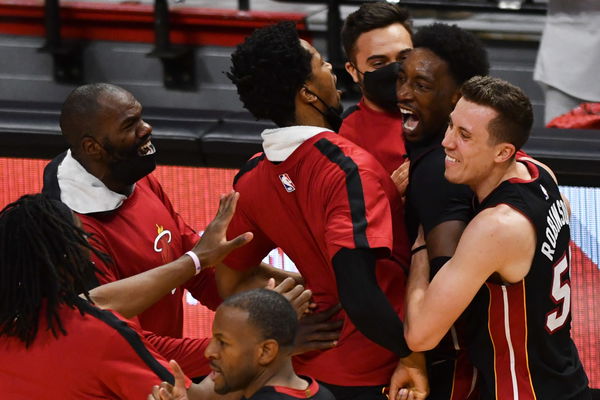 ---
---
Miami Heat is that one team which can pull a victory out of thin air. They're a never-say-die roster and proved the same against Brooklyn Nets, winning the home game 109-107. 
ADVERTISEMENT
Article continues below this ad
At one end, the Heat were playing without Jimmy Butler who was sitting out with a sprained ankle. On the other side, the Nets continued to have James Harden on the injury list because of his hamstring issues. For the Heat, especially, it was Bam Adebayo's game to lead and that's what he did.
Donovan Mitchell reacted to Bam Adebayo's game-winner
ADVERTISEMENT
Article continues below this ad
It was a very close match between the two EC teams, right from the beginning until the very end. The final quarter, especially, was a roller coaster ride for both teams.
At one point, the Heat were convincingly leading 99-92 with under seven minutes remaining. However, the Nets bounced back and took the next 13 points to stun the Heat defense. That's when Bam Adebayo pulled the best out of him and started scoring big time.
With the score tied up at 107 and the last seconds remaining, Goran Dragic passed the ball towards Bam. The latter saw defender Jeff Green in the eye as Dragic faked a screen.
Running on forward Green's left side, the star center went for his trademark step back jump shot and made it. That became his NBA career's first game-winner, and it came against a very dangerous side.
Utah Jazz star Donovan Mitchell could not help but react to the shot. Check out his reaction – 
Notably, Bam Adebayo (14th pick) and Donovan (13th pick) came from the same 2017 draft class. 
Read Also – 'Bully Ball': Miami Heat Leader Jimmy Butler Calls Out Bam Adebayo to Change His Playing Style
Miami Heat winning over Brooklyn Nets made the Sixers happy
It was a memorable night for the Heat and the one that can mark a twist in the tale if they use this win as a motivation. One thing that went into the Heat's luck was Kevin Durant leaving the court with a left thigh contusion.
He was 3/3 from the field and could have been a huge danger. Also, a series of clutch misses from Kyrie Irving further dampened their case.
ADVERTISEMENT
Article continues below this ad
Just as all this was happening, the Sixers President, Daryl Morey, was somewhere watching the game and enjoying. He obviously sees the Sixers' win in each of the Nets' losses.
ADVERTISEMENT
Article continues below this ad
Now, Bam chose not to copy Dwyane Wade (from his 2019 game-winner) and celebrate by standing on the table. But he sure gave a hint to Jimmy Butler that his jumpers help and that he can be a clutch player who will get more chances to celebrate.