Warriors' Steve Kerr Raises Clouds of Doubt Over Steph Curry Returning to Play Anytime Soon
Published 03/20/2021, 12:25 AM EDT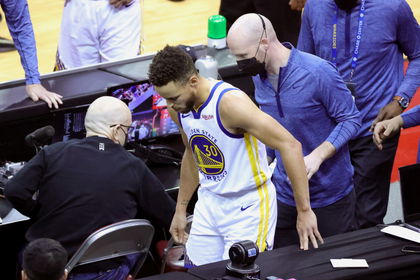 ---
---
The 2021 Warriors can go down as the most unfortunate team in history with all that is happening with them. The recent injury scare of Steph Curry has made them unshielded against the top teams of the league. However, even as they are surrounded by all the negatives, they are still taking tiny steps towards qualifying for the playoffs.
ADVERTISEMENT
Article continues below this ad
GSW is now 22-20 after defeating the Grizzlies 116-103 in what was a very important game for maintaining their standing. It was a refreshing outing for the Warriors, who were forced to play without Steph Curry after his recent injury.
ADVERTISEMENT
Article continues below this ad
Will Steph Curry sit out for a long time?
Stephen Curry hurt his tailbone in the game against the Rockets on March 17. The star point guard attempted a buzzer-beater three-pointer at the end of Q3, when he took an awkward fall and hurt his posterior.
He could score 18 points in that game, which ended with him yelling in pain.
In a recent post-game interview, team coach Steve Kerr gave a fresh update on Chef's injury.
He detailed, "He is very doubtful. It will be irresponsible for us to play him. He's still in pain and… we've got to make sure he is stable and strong in that area, the muscles around the injury. So it's not even a question of the temptation to put him out there, it's just we're gonna do what's right medically and he's alright, he's alright."
Now, this is not good news for a team that is about to face the 76ers in the next few days. Without Steph, Steve Kerr has the Warriors' second team to play, and that can be tricky against the tough teams.
How good or not-so-good are the Warriors without Chef?
On paper, the Warriors without Steph Curry are not as good as the Sixers without Joel Embiid. The Warriors are an inexperienced roster with the exception of leader Draymond Green.
They do have some rising talent in starter Jordan Poole and some experience in the form of guard-forward Damion Lee, but they are still less likely to perform every night and support Andrew Wiggins. 
ADVERTISEMENT
Article continues below this ad
However, these names showed great resilience against the Grizzlies as Wiggins took Curry's position to score six three-pointers, while Damion added another four.
Even Kelly Oubre Jr. showed up even as he was doubtful because of a foot injury in the same game against Houston. All in all, the Warriors showed that they deserve to break into the Top 8, with or without their main men. But how far can they go? Only time will tell.
ADVERTISEMENT
Article continues below this ad