Warriors' Coach Reveals the Exact Area Where James Wiseman Must Improve Post the All-star Break
Published 03/05/2021, 10:07 PM EST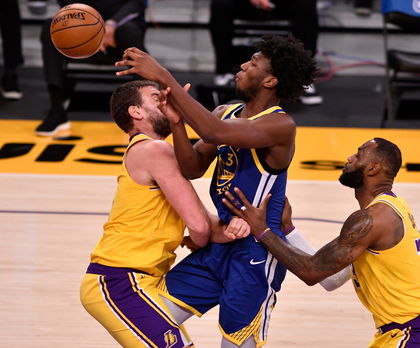 ---
---
In the week ahead of the NBA All-star break, Golden State Warriors took two blowout losses to dampen their confidence. It is true they have now won more games than they did in the entire last season, but there are loopholes they must fill, or else the WC will eat them raw.
ADVERTISEMENT
Article continues below this ad
The Warriors showed enough grit to make it big this season, but they looked painfully bad without Steph Curry by their side. Remember that 2-point loss against the Hornets? That has been their story whenever Curry has struggled. So, who all must rise to the occasion for them to cut down on the dependency?
Coach Steve Kerr has James Wiseman in his vision
ADVERTISEMENT
Article continues below this ad
James Wiseman, one of the top three draft picks in 2020, is perhaps having the poorest season of all. While LaMelo Ball is turning better with each game, Anthony Edwards is single-handedly leading his side as a mature player. Wiseman, on the other hand, struggled with injuries and still needs to gain that consistency in his defense. 
Coach Kerr noted all of that and in an interview, he revealed the one thing he wants Wiseman to improve. The champion coach exclaimed, "Rebounding. Rebounding is about positioning, it's about anticipating. And he should be getting better as he goes. The second half of the season will be really big for James and for us. For us to win, he's gotta be a force in the paint on the glass."
As of now, the Big Ticket is averaging 11.8 points, 5.9 rebounds per game with just 0.7 assists. In his last game against the Suns, he managed 11 impressive rebounds but failed to capture many easy ones. So, in a night where he could've given 15+ crucial rebound possessions to his team, he settled for less. 
Read Also – Warriors President Reveals Franchise Was Not Sure About Drafting James Wiseman at First
Where is the Warriors' rookie lacking?
One can compare James Wiseman to Giannis Antetokounmpo in his rookie year. The Greek Freak is a ravishing bullet train today, which he was not when he entered the league. Similarly, Wiseman lacks the muscle power needed to fend off bulky opponents who are ready to grab the ball. 
ADVERTISEMENT
Article continues below this ad
As coach Steve rightly noted, "It's physicality, too. He gets pushed around a little bit. He's 19. You think about where he's gonna be as his body fills out and he figures the game out — he's gonna get so much better. It's very exciting to think about that."
The Warriors can not afford a center player who gets bullied near the rim. For sure, the 19-YO has the speed and agility to make for a lot of those shortcomings, but he must gain some muscle in the coming time to add to his measurement.
The 7-footer 240 lbs player has an impressive wingspan of 7-foot-6 and a standing reach of 9'6". Just a few more additions to his skills, and GSW can benefit from his game.
ADVERTISEMENT
Article continues below this ad
Read Also – 'It's Been Hard': Warriors' James Wiseman Opens Up About Rookie Year Experience in the NBA