Steph Curry Workout Routine: What Makes Him the Best Shooter in the League?
Published 05/19/2021, 11:30 PM EDT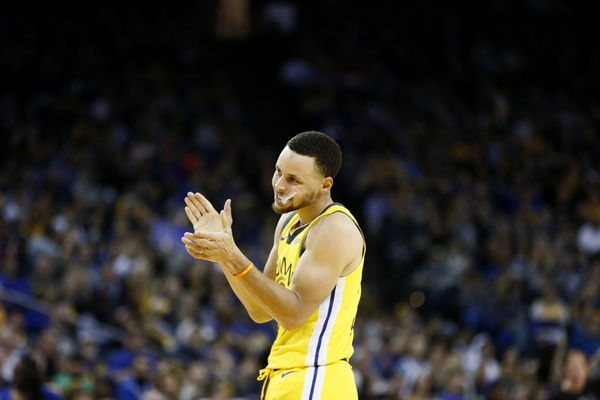 ---
---
Steph Curry shot to fame in 2012-13 when he enjoyed a 45-55-90 season and dragged the Warriors to the conference semis after a six year gap. That year marked the beginning of a new era because the baby faced assassin did not take a break until he played five consecutive NBA Finals and won three championships.
ADVERTISEMENT
Article continues below this ad
Also, that break only came because of a series of injuries that consumed one of the most dominant NBA teams ever. But those who remember Steph's ankle troubles from 2011-12 would agree that 2019-20 was not the first season that he lost to an injury. 
Nonetheless, the star point guard always bounced back and all of it happened because of his insane fitness routine.
ADVERTISEMENT
Article continues below this ad
Steph Curry fitness regimen
From the Davidson Wildcats to the Golden State Warriors, from a #7 overall pick to becoming the NBA's top shooter, Steph has come a long way. Given his 6'3" 185 lbs physique, it would have been easy for him to use that as an excuse and allow the 7-footers to intimidate him.
But instead, this offspring of Dell Curry tread his path and worked out hard enough to become a dominant force himself. So what does his weekly workout look like?
Monday (Chest): 75 push-ups, 45 nautilus presses, 60 nautilus incline presses, 45 repetitions on pec deck machine, 24 bench presses, 32 dumbbell flyes, and 32 other incline dumbbell presses.
Tuesday (Back): 15 pull-ups, 60 seated rows, 45 lat pull-downs, and 60 t-bar rows.
Wednesday (Shoulders): 60 Arnold presses, 45 lateral dumbbell raises, 45 front raises, 32 overhead dumbbell presses, another 4-4 sets of lateral and front raises with different weights, and 40 shrugs.
Thursday (Biceps & Triceps): 45 nautilus curls, 45 z-bar cable curls, 45 dumbbell hammer curls, and 60 triceps press downs.
Friday (Cardio): 45-minute treadmill running
Saturday & Sunday: Rest
Now, one can mistake this routine as an easy one and discount the other things that come with it. Steph Curry spends a good amount of time warming up and cooling down himself pre and post-workout to keep himself from injuries and also maintain flexibility and agility.
Apart from that, in a regular season, he follows this routine alongside game nights (35-minutes on the court) on every alternate day. Plus, he also attends team workouts and all the other things that come with it. Note that everything from his diet to his off-day schedule to his sleep routine is pre-decided too.
Read Also – Steph Curry Details 'How it Feels Like' When He Hits Prime Shooting Form & Achieves a Flow State
Warriors point guard's extremely unique shooting workout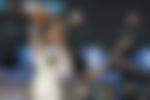 Steph Curry, at the time of writing this article, has 2832 career three-pointers to his name. In April 2021, he set a record for scoring the most threes (96) in a calendar month.
Plus, he averaged a career-high 5.3 long-range made shots in 2020-21. So how does he pull this magic each season without a miss?
ADVERTISEMENT
Article continues below this ad
Well, his trainer had earlier revealed how he works on "The 57" drill to perfect the art of shooting. In this, Curry takes the challenge of converting at least 5 of his seven attempts, each from seven different positions on the floor. He works on the variation of distances and practices even from the logo.
On a regular day, he would take anywhere between 300-500 shots after each drill. From spot-up threes for acquiring muscle memory to practicing the quick-triggers, he does it all day-in-day-out. 
As if all this wasn't enough, he uses a light-system enabled display goggles to help with neurocognitive training. He uses the goggles as a distraction and takes shots as per the lights reflecting from it. This particular exercise helps with his reflexes and the hand-eye-coordination.
ADVERTISEMENT
Article continues below this ad
Isn't all this a recipe to become a champion? Help us know in the comments which particular segment of his routine did you find the most challenging.