"You Are Not Allowed to Come Back": NBA Legend Once Exposed Billionaire Michael Jordan for his Unsaid Golf Rule
Published 12/31/2022, 5:00 PM EST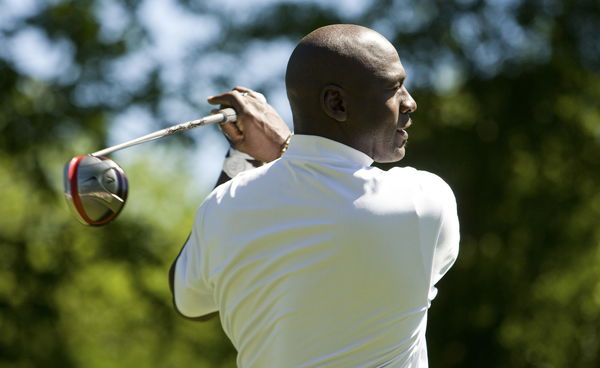 It cannot be stressed enough that NBA legend Michael Jordan is one of the most competitive athletes ever. The Chicago Bulls legend's competitive mindset and elite trash-talking skills are something that have become NBA folklore. Fans are also aware that His Airness' interests are not just limited to basketball. Apart from shooting jumpers, MJ loves playing golf. Following his retirement from the court, the billionaire businessman has since then spent a significant amount of time on the golf course. Meanwhile, this NBA legend once revealed in an interview what it's like playing golf with MJ.
Jordan has played with several big names such as Tiger Woods, Bill Clinton, and Academy Award winner Michael Douglas. Evidently, each of his golf partners has an interesting story to share about Jordan that mostly ends with them being trash-talked or thoroughly defeated. Similarly, former Mavericks star Jason Kidd once shared his own experience while playing with the six-time NBA champion. He also revealed one of MJ's unwritten golf rules that everyone must abide by.
Michael Jordan keeps his golf partners on their toes
ADVERTISEMENT
Article continues below this ad
In an episode of GOLF's Subpar podcast, former NBA player and the head coach of the Dallas Mavericks, Jason Kidd, relayed his golfing experience with Michael Jordan. The 2011 NBA champion said that he used to play golf with Jordan during the early years of his career. Kidd revealed that to play golf with MJ, one needed to be able to play fast, otherwise you might be in trouble.
"If you don't know how to play fast, then you are not allowed to come back. With him, if you don't play fast, he will leave you," Kidd told the hosts of the podcast. He then added that Jordan is a born competitor and hence there's no leeway during games. The former Mavs guard said, "When you know they're better than you, you gotta bring your A-game."
It shouldn't come as a surprise that Jordan likes to win in every game he plays. Then there's his ability to intimidate his opponents with trash-talking. Not just Jason Kidd, but several other players who have competed against the six-time NBA Finals MVP and would say the same. Perhaps one of the most significant victims of MJ's trash talking would be the former President of the United States himself.
Jordan didn't even spare the most influential of people from his sharp-tongue
While Michael Jordan has never played a game of golf with Barack Obama, he made sure to let the former POTUS know that he was not good at golf. During an interview with Ahmad Rashad, Jordan was asked which four people would be a part of his dream golf squad. Before giving his answer, MJ made it clear that neither Arnold Palmer nor then-president Obama would be a part of the team.
ADVERTISEMENT
Article continues below this ad
When asked the reason, MJ said, ""I never said he wasn't a great politician. I'm just saying he's a sh***y golfer."
WATCH THIS STORY:  Each time Bad boy Pistons bullied and beat up Michael Jordan and Chicago bulls on the court
Probably no one, but only Michael Jordan would have the courage to publicly say that the President of the US was a sh**ty golf player.
ADVERTISEMENT
Article continues below this ad
Edited By: Satagni Sikder