'Got Our A– Kicked': Warriors' Draymond Green on Playing Against Brooklyn Nets' Kevin Durant
Published 02/14/2021, 12:22 AM EST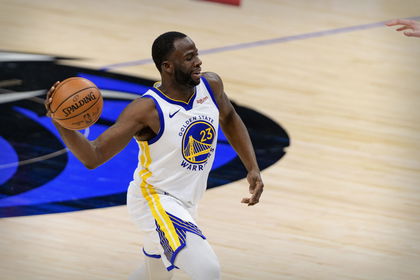 ---
---
The Golden State Warriors' cluelessness against the Brooklyn Nets continued, as they lost their second game of the season against the Nets on Saturday. Interestingly, the Nets produced blowout victories on both occasions, the most recent being a 137-117 win. 
ADVERTISEMENT
Article continues below this ad
It now appears as if the Warriors without Klay Thompson do not have enough offensive strength to handle a team as big as the Nets. Kevin Durant came back after missing three games and playing only restricted minutes against the Raptors. His addition helped them massively as they demolished the Warriors at their home.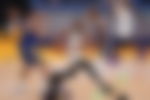 Warriors' Draymond Green and his wisdom
ADVERTISEMENT
Article continues below this ad
Draymond Green is more or less in the role of a mentor-playmaker for the Warriors. He added 8 assists, 7 boards, 6 points, and a block but had no answers to former teammate Kevin Durant.
The 30-YO had to exit the game early because of injury and could play for 32 minutes. He was guarding KD when he hit the floor and probably hurt his leg.
In the post-game interview, the GSW vet said on attempting to stop KD, "It sucked. We got our a— kicked… There weren't many emotions it was just a basketball game."
He also reflected on how KD is literally unstoppable, and that it's almost impossible to tame the big man down.
Draymond on what stood out to him when Durant was with the Warriors:

"Just how no one in the world can stop him. And even after playing tonight, I still don't think anyone in the world can stop him."

— 95.7 The Game (@957thegame) February 14, 2021
Draymond is someone who does not shy away from praising his opponents. In the past week, there have been several occasions when he has praised LeBron James for pulling some amazing performances with an aging body.
What helped the Brooklyn Nets produce that all-around performance?
ADVERTISEMENT
Article continues below this ad
For one, the Warriors going down 26.5% from behind the three-point line helped the Nets big-time. Stephen Curry himself went 2/9 from downtown, and that took a lot away from them. Plus, the GSW unit missed a few easy layups and even looked rusty from the free-throw line. 
The Nets' Big Three scored/assisted on 100 points and this is one landmark which, if they achieve, it's tough for any team to overpower them. James Harden has clearly taken the responsibility for making the play as he assisted on 16 shots while missing his triple-double by just two rebounds.
The PG/SG combo of The Beard and Kyrie Irving is doing wonders for them. Also, not to forget, Jeff Green and Bruce Brown remained extremely efficient from the field, and the Nets made the best use of every possession. 
ADVERTISEMENT
Article continues below this ad