'Greatest Shooter of All Time': Damian Lillard Rates Steph Curry Ahead of Him
Published 05/05/2021, 10:20 AM EDT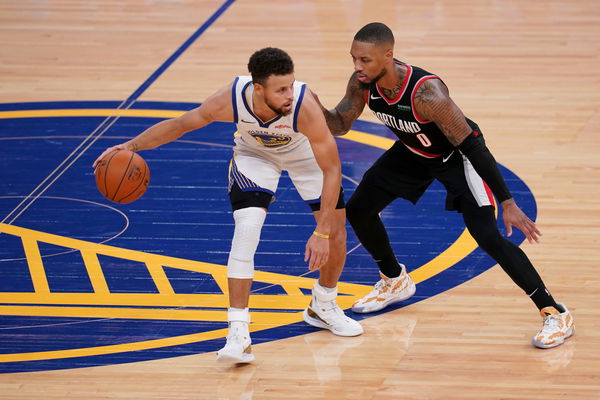 ---
---
Steph Curry is arguably in the form of his life right now. After playing with multiple superstar caliber players for the past three years and missing time through injury, Steph has become the center for Dubs' offense.
Averaging an insane  31.5 points, 5.7 assists, and 5.6 rebounds per game this season, Curry is crossing a career high numbers and has kept the Warriors at bay in the competitive Western Conference.
Much of it has been because of his exceptional shooting prowess. This season, Steph is attempting 12.4 threes per game, making an insane 5.3 threes of them. His recent performances have warranted him to be in the MVP conversations as well.
Damian Lillard praises Steph Curry
While Steph Curry is showing his class as a shooter, so is Blazers' talisman Damian Lillard. Lillard and Curry have been hitting some incredible threes for quite a while now and have shown impeccable range on the court.
Dame Dolla recently made an appearance at the Dan Patrick show. There, the 31-year-old spoke about whether Steph Curry was the second best point guard of all time.
"I think Steph would, you know, it depends on what you're going off of. You know the quality of the player like if they was to just if you just line these two guys up or what has this person accomplished in their career, and you know Steph has two MVPs, a unanimous MVP, back-to-back titles, three total titles.
"The resume is there so I think if you ask 10 people you know seven of them or eight of them would probably come back and say you know Steph is right behind Magic and the way he's changed the game um the excitement you know with his style of play."
ADVERTISEMENT
Article continues below this ad
Lillard also spoke about how Steph is inspiring other players "I mean, usually when you got a NBA superstar is somebody with you know great gifts. God given things, 6'6″- 6'7″, super athletic….. Then you have you know guys that just work on it and you know guys who just make themselves what they become and I think that's what Steph is a product of."
He added, "A guy that's five nine or five ten could follow what he does you know and have a chance." Lillard also ranked Steph above him as a shooter. "I think Steph is the greatest shooter all time."
Curry has surely cemented himself as the finest shooter in the NBA. The 33-year-old is on absolute fire and has a real chance to win the MVP trophy as well. Can Steph lead the team to a spot in the playoffs and win his third MVP trophy?
ADVERTISEMENT
Article continues below this ad