'Greatest Shooter to Ever Play': Blazers' Damian Lillard Gives Warriors' Stephen Curry a Huge Shoutout
Published 03/18/2021, 2:00 AM EDT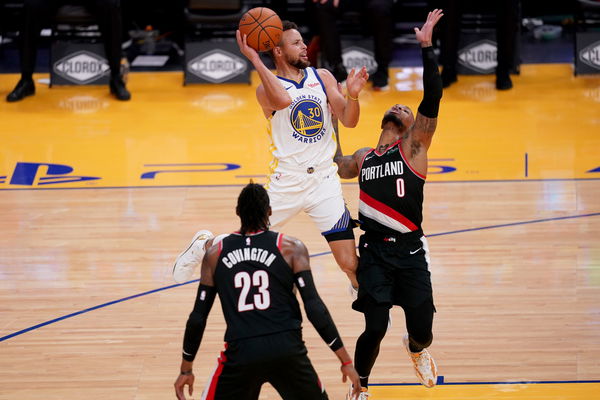 ---
---
The Portland Trail Blazers are strongly standing at #6 of the highly competitive WC. All this, with their key players sitting out and only Damian Lillard handling the load on his tested shoulders. But much to his credit, the Blazers are looking like a dangerous squad in this season.
ADVERTISEMENT
Article continues below this ad
In the past week, the Rip City lost a couple of close games against the Phoenix Suns and then the Timberwolves. However, they bounced back against the Pelicans and won a game that nobody believed was theirs. It was Dame's shooting prowess that saved the game, but the star still believes someone else to be the greatest.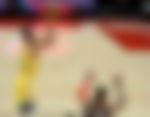 Damian Lillard and his respect for rival Stephen Curry
ADVERTISEMENT
Article continues below this ad
In the Blazers' win over the Pelicans, Damian Lillard scored 20 of his 50 points in the final quarter. As a result, the Blazers were able to close on a 17-point deficit with just six minutes remaining in the game.
His three-pointer, with 3:30 minutes left on the game clock, helped them make it a one-point match. Later, four FTs from Dame ensured them an impossible victory just as the Pelicans looked dejected.
In the post-match on-court interview, Lillard gave a shoutout on Steph Curry's name as he answered a question from Shaquille O'Neal. The star expressed, "It's just putting a lot of time into it. Obviously, we think of Steph Curry first when he think of shooters — the greatest shooter to ever play in our league. But he'll tell you the same thing — it's a lot of reps."
One can imagine how good the muscle memory is for these two names when it comes to shooting from anywhere. Dame scored six dimes from the long-range at 46.15% shooting against the Pelicans.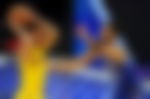 The Blazers star's ultimate tip for the young gen 
Damian Lillard is an inspiration to an entire generation of kids picking up basketball today. His logo shots from the middle of the court are something that makes him almost unguardable. For his opponents, they have to guard Dame from the half-court, making them vulnerable to allowing open looks to other Blazers. 
ADVERTISEMENT
Article continues below this ad
In the same interview, Dame gave out his secret sauce behind the shot-making, "Whether people are watching or whether you get credit for it or not, you put the time in. And you do it at a game pace, you do it with focus, you do it while you're holding yourself to a certain standard. Make 10 in a row at each spot at the end of your workout when you're tired and you probably don't want to do it. Things like that over and over and over and over. You get better from the reps."
ADVERTISEMENT
Article continues below this ad
But making back-to-back uncontested threes when a partner is accurately passing the ball is easy during the practice. What allows the players like Lillard to attempt those 45-feet shots and convert the clutch-time to Dame time? The star himself concluded by suggesting, "Moreso than just physically, you get better mentally and more confident because you've done it so often. Then in the moments — end of the game, first quarter, second quarter, third quarter, a tough shot, an easy shot — you got the ultimate confidence that it's gonna go in."
Who do you think is a more clutch three-point shooter? Dame or Steph? Help us know in the comments.