'Grow The Hell Up': NBA Analyst Condemns Dwight Howard Over His Remarks on Giannis Antetokounmpo
Published 03/19/2021, 1:00 PM EDT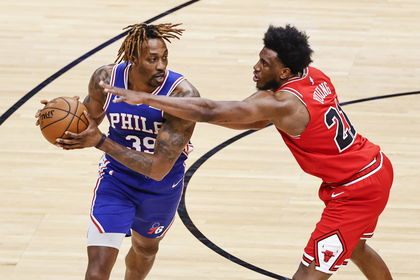 ---
---
The Milwaukee Bucks and the Philadelphia 76ers faced off on March 17, and both teams presented fans with a cracking game. What happened towards the end of the game unfolded into a mega storyline as Giannis Antetokounmpo allegedly triggered Dwight Howard with his celebration.
ADVERTISEMENT
Article continues below this ad
The Milwaukee Bucks were on their opponents' home turf but had control against the Eastern Conference leaders. As the game went into overtime, Giannis Antetokounmpo scored the Bucks' last nine out of 13 points and contributed to the win.
After converting a stepback jump shot from the paint to go seven points clear, Antetokounmpo sat down on the court in a celebratory motion. This, however, did not sit well with Dwight Howard, who had some remarks after the game. 
ADVERTISEMENT
Article continues below this ad
"I wanted to go and Cold Stone Stunner him, but I already got one tech," Howard mentioned after the Sixers' loss.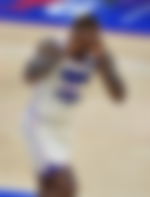 Stephen A. Smith rages at Dwight Howard over remarks about Giannis Antetokounmpo
A lot of people are reacting against Dwight Howard after he made his feelings known. It was quite a casual statement from the three-time NBA Defensive Player of the Year, but it has not gone down well with most fans. 
Likewise, Stephen A. Smith condemned Giannis Antetokounmpo for his extravagant celebration, and also fired shots at Dwight Howard for his arrogant remarks. Here's what the popular NBA analyst said:
"I don't want to hear a damn thing about Dwight Howard. Dwight Howard talking about wanting to stun him or whatever the case. Dwight Howard has had his share of celebrations over the course of his career, when he was dominating the league as a defensive player of the year, when he was being very formidable," Smith mentioned. 
ADVERTISEMENT
Article continues below this ad
"When he was a guy that was winning with the Los Angeles Lakers last year he was celebrating, but now that somebody celebrated on your home court, you're gonna have an attitude? Grow the hell up. No, that ain't cutting it. Handle your business," he added. 
Stephen A. Smith was indeed fired up with how things progressed between Dwight Howard and Giannis Antetokounmpo. The 53-year-old did make his point against both athletes. But what's your take on this? Which player is on the wrong side here?
ADVERTISEMENT
Article continues below this ad
Read Also: 'Very Unique Players': Lakers' LeBron James Heaps Huge Praise on Lonzo and LaMelo Ball