Guess Who? NBA 2K Drops a Major Hint about the Cover Athlete for NBA 2K22
Published 07/13/2021, 9:33 PM EDT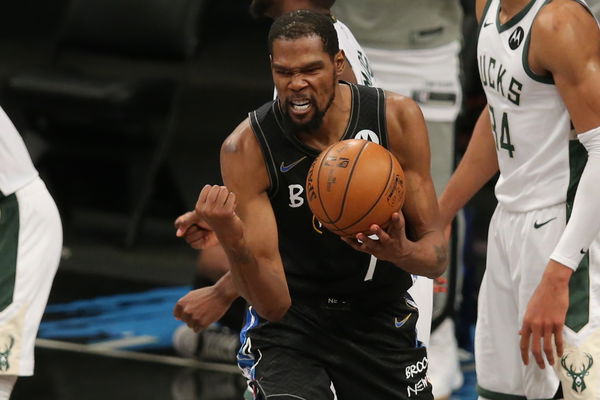 ---
---
The year's MVP, DPOY, 6MOY, ROY, HoFs, when every such individual accolade is already out, there's one that remains. Yes, it's the announcement on which athlete is going to bless the NBA 2K cover page for the year. In the past years, the world has seen every star from LeBron James to Zion Williamson taking the recognition. So who's it gonna be this year?
ADVERTISEMENT
Article continues below this ad
Well, the NBA 2K started this standard practice in 1999-00, and ever since, it's a much anticipated honor, for the players and their fans alike. Back in the days, it used to be one athlete named per year. But it later saw multiple players winning the accolade as per unique editions.
ADVERTISEMENT
Article continues below this ad
Who is on the 2022 cover of NBA 2K?
Just a few hours back, NBA 2K dropped a major hint. They revealed a blurred silhouette of the athlete (in action) and left it on the fans' imagination to guess the name. Take a look and make your guess – 
As is clearly evident from the comments, most fans incline towards Kevin Durant's name. The man came back after a year's gap since his Achilles injury and had a tremendous season. Plus, apart from captaining the ASG 2021, the star is now set to lead Team USA to the Tokyo Olympics. So those are achievements enough to get a shot at the cover page. However, one must note that Kevin Durant had already seen his NBA 2K inclusion twice. In 2013, he shared the honor with Blake Griffin and Derrick Rose. Later in 2015, the Oklahoma City hero saw his presence on the NBA 2K15 PS4 edition (popularised by music from Pharrell Williams).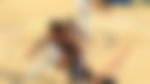 If not Kevin Durant, who else can it be?
Well, in the recent past, Damian Lillard took the 2K21 space while Kobe Bryant (Mamba Forever edition) and Zion Williamson (Next edition) also saw a selection. Prior to that, it was Dwyane Wade on the Legend Edition and Anthony Davis on the 2K20 main cover.
ADVERTISEMENT
Article continues below this ad
So now, the two names that are leading the hype are Luka Doncic and Nikola Jokic, both non-Americans. Luka certainly deserves the mention because if Zion is done with, he is the obvious choice because of the bright future. Joker makes a case because of his MVP win and the breathtaking numbers he averaged this season.
Now, the rumor is that the revelation can come out on July 14th and that the game can see the release on September 10th. So until further announcement/hint pops up, we can only guess. Who do you think can be on the cover? Help us know in the comments.
ADVERTISEMENT
Article continues below this ad
Watch this story – Kevin Durant and Others with a Hidden Meaning Behind Their Jerseys