'Had No Idea': Lakers' Jeanie Buss Narrates a Kobe Bryant Story with a Heavy Heart
Published 04/26/2021, 12:02 AM EDT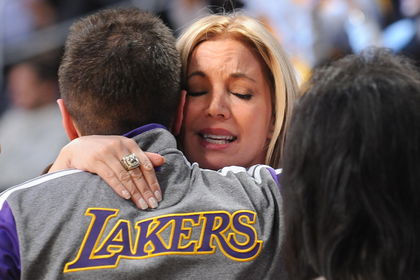 ---
---
A human being, especially a woman, has power beyond measures, but a soul can only take so much pain. The Lakers' team owner, Jeanie Buss, faced an extraordinary amount of grief at the beginning of 2020. 
ADVERTISEMENT
Article continues below this ad
The men in Golden & Purple winning that 2020 NBA title resulted from all that the franchise and its owner had endured. Kobe Bryant's loss being the insurmountable epiphany for the team, it took away a part of the Lakers President's heart. So, how does the powerful executive remember the last year and all the misery?
Jeanie Buss opened up about the back-to-back personal losses
ADVERTISEMENT
Article continues below this ad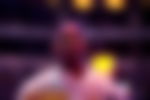 In a recent interview with Matt Barnes and Stephen Jackson, Jeanie discussed a wide variety of topics. But a question from Matt got her very emotional, and she almost held her tears back while answering those.
In December 2019, Jeanie lost her mother JoAnn Buss, and just a fortnight later, she lost her mentor in former NBA commissioner David Stern. Even before she would have recovered from the losses, the tragic news of Kobe Bryant's deadly accident surfaced. In the interview, she remembered how the Black Mamba's loss took away a lot from her.
The 59-YO expressed with a heavy heart, "I'm glad the way you said that 'we all lost Kobe', because when people would say to me and express their condolences, I would correct them and say that, hey, the world lost somebody really special. Just him as a friend, as a motivator, watching him as a father, and a husband, you know he just, he was a leader, and he's irreplaceable. The knowledge that he shared with people. I had no idea until after he passed, I mean I knew he helped basketball players. But he helped everybody, people in every kind of sport, even me."
Read Also – When and Why Did Kobe Bryant win an Oscar?
When Kobe Bryant uplifted the Lakers owner in a unique way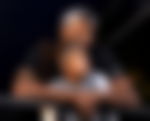 After losing three key people in her life, Jeanie Buss had reached the level of a psychological breakdown where she would cry all night. The pandemic and the stoppage of basketball had further aggravated her condition. Perhaps, she could pull herself together only because of the Lakers' winning run under LeBron James.
However, this was not the first time she had faced personal setbacks in life. Back in 2013, her father Jerry Buss lost his life to kidney failure, leaving the ailing Lakers in the hands of Jeanie Buss. That was when the franchise face in Kobe Bryant helped Jeanie gain confidence.
ADVERTISEMENT
Article continues below this ad
Just as she further added, "when I think back to, after my father passed away in 2013, he invited me to have lunch and I met him down in Orange County and he brought Gianna with him. He said, 'I hope it's okay with you I brought Gianna because I want her to see a really powerful woman'. I realised later that what he was doing was motivating me. He was somebody that I valued and will continue to value. I hope that what he stood for, the lessons that he taught people, I will continue to pass on to other people. I think his legend will continue to grow."
Such were the unique ways that Kobe Bryant would choose to help his close ones. A remarkable athlete, a loyal team member, a great mentor, an inspiring father, an unmatchable friend, that's Kobe for you. #MambaForever
ADVERTISEMENT
Article continues below this ad