'Had to Prove Myself': Michael Jordan Reveals Which NBA Championship With the Chicago Bulls Was Most Challenging
Published 08/11/2021, 1:30 PM EDT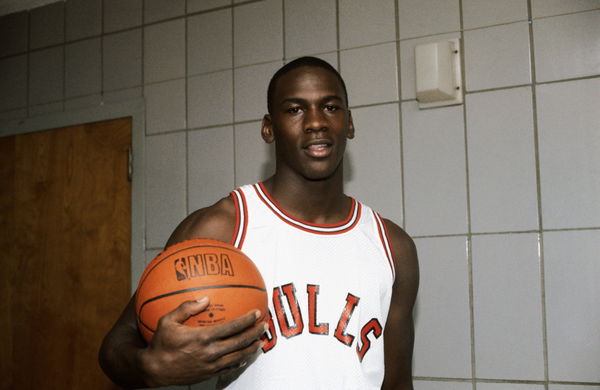 ---
---
The Chicago Bulls came about into the NBA during the 1966-67 season. For the most part, it saw struggles despite adding some excellent players in the mid-70s which included Jerry Sloan, Bob Love, Tom Boerwinkle, and a few others. And even though the Bulls could be labeled as a hardworking team, the results weren't always fruitful. Then, enters Michael Jordan through the 1985 NBA draft that changed the face of the franchise forever.
ADVERTISEMENT
Article continues below this ad
He not only became one of the best players of the mid-80s to 90s era but also the greatest player of all time. From showing off in slam-dunk contests, always having new shot-making tricks up his sleeves, and bagging seven consecutive scoring titles was all Jordan was about.
However, apart from writing a new chapter for the NBA and putting up some of the biggest numbers in it's history, his biggest achievement was his championships. Jordan wrote the Chicago Bulls legacy along with his excellent supporting cast, winning sex straight NBA championships.
ADVERTISEMENT
Article continues below this ad
This was iconic. Nothing like this had ever been seen before and doesn't seem like it will happen ever again. Although this also came with some ups and downs. MJ retired thrice during his career and twice while he played for the Bulls. So, getting back on track and still being the best in the league was a challenge of its own. Nobody would believe it that for MJ too, it wasn't easy, especially the 96′ title. WATCH THIS STORY: How Michael Jordan was the Worst Drafter Ever
The most challenging NBA title for Michael Jordan
ADVERTISEMENT
Article continues below this ad
In an interview with ABC, Michael Jordan talked about how much keeping the winning streak takes a toll on a player. He explained that keeping up with the expectations of winning every season was tougher than anything. But if he had to narrow it down, it comes down, the 1996 title was the most difficult.
"The 96 was probably the toughest one because I was coming from a defeat in 95 when I played baseball. Everyone thought I was a step slower. So, I had to prove myself. And it was the first time I had done it without my father. So all these emotions and all these different things are coming at me. To me that was the most difficult If I had to pick of the six," confessed Michael.
Jordan has always put on a face of competitiveness. So, his struggles coming from the man himself make us realize the GOAT is also human. While MJ's journey might have not been as easy as it seemed, it was most entertaining for the viewers. So, if you had to pick, which one would be the best Bulls championship season?
ADVERTISEMENT
Article continues below this ad