Hall of Famer Charles Barkley Explains Why He is Rooting Against The Brooklyn Nets to Win the Championship
Published 04/16/2021, 12:30 PM EDT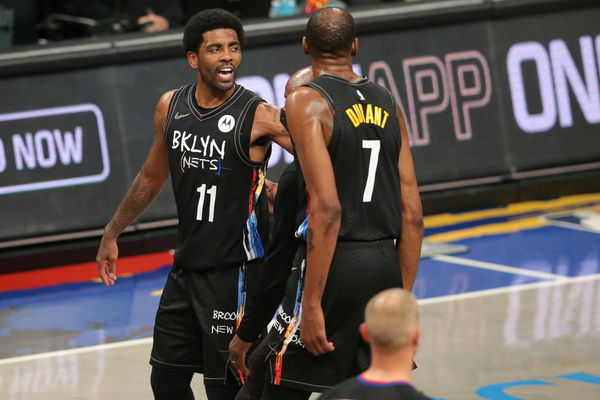 ---
---
The Brooklyn Nets are one of the favorites in the Eastern Conference this season. With a star-studded lineup, the Nets have a record of 37 wins and 18 losses and are the second seed in the East, only a game behind the Philadelphia 76ers.
ADVERTISEMENT
Article continues below this ad
With the big three of Kevin Durant, James Harden, and Kyrie Irving, the Nets are absolutely stacked this season. They even added some other stars in Blake Griffin and LaMarcus Aldridge from the trade deadline. The Nets have become one of the favorites for the title.
Charles Barkley explains why he doesn't fancy the Brooklyn Nets
ADVERTISEMENT
Article continues below this ad
Former Suns' legend and Hall of Famer Charles Barkley is one of the biggest analysts in NBA on TNT. Known for his blunt responses, Chuck had a pretty bold take on Brooklyn Nets.
In a recent discussion about the favorites in the Eastern Conference, Barkley explained why he didn't want the Nets to win the East. Chuck said, "I am always going to root against Brooklyn. I just don't like the way they put that team together… I am never going to be a proponent of guys building their own teams, never going to be for it. So I am rooting for anybody to beat Brooklyn."
This isn't the first time that someone has criticized the Nets. Multiple other legends have had strong opinions on the Nets forming a super-team of such a magnitude. Recently, even 76ers' legend Julius Erving echoed the sentiment.
ADVERTISEMENT
Article continues below this ad
In an appearance on the Inside the Green Room podcast, Erving said that the Nets' approach felt like they were on their way to buying an NBA championship.
Erving said, "It's reminiscent of how the Yankees used to do it all the time. They load up – they call it 'buying a championship.' The Lakers are known for doing that too… They're getting all these pieces… They don't know at the end of the season what it's going to look like or what it's going to feel like. But they're going to be formidable."
ADVERTISEMENT
Article continues below this ad
Often super-teams have had a lot of criticisms. Be it the 2011 Miami Heat or the Golden State Warriors dynasty, former players have been critical of multiple talented players teaming up. The pressure is on the Nets now. Can the trio of Harden, Kyrie, and Durant prove their critics wrong and win a championship?
Trending Stories