'Hall of Famer': Damian Lillard Pays His Respect to Carmelo Anthony After Stellar Performance Against Raptors
Published 01/12/2021, 7:40 AM EST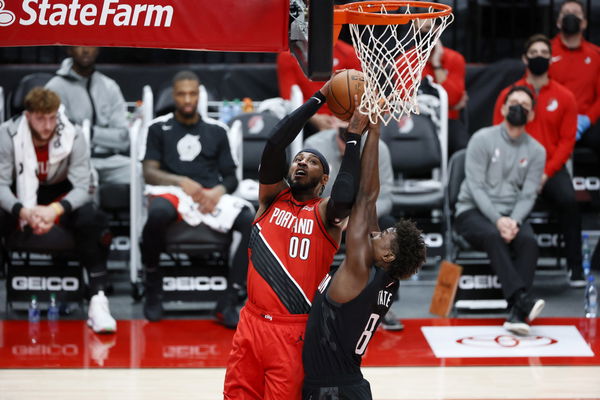 ---
---
The Toronto Raptors just can't catch a break. When they headed out towards the West last week, they were down 1-5 and in need of a desperate win. But it's been one loss after another and it looks like they might be standing at a point of no return as they lost to the Portland Trail Blazers 112-111, in which Carmelo Anthony shined through for the team.
ADVERTISEMENT
Article continues below this ad
How Carmelo Anthony was the game changer
What's worse is that this is their second straight one-point loss. The Golden State Warriors also defeated them 106-105 on Sunday night. And once again, Pascal Siakam failed to make the final shot that could have gotten them this win.
ADVERTISEMENT
Article continues below this ad
On the other hand, the Blazers' CJ McCollum showed up big by dropping 30 points. This also includes the jumper that gave Portland its victory when only 9.6 seconds were left on the clock. Their star player, Damian Lillard, also contributed 23 points to the scoreboard but the game-changer was somebody else altogether.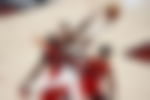 Yes, all fingers pointing towards Carmelo Anthony, who came off the bench and added 20 points. This was the contribution that made a difference for the Blazers, erasing a 17 points deficit.
A Hall of Famer in the eyes of Damian Lillard
The Blazers had a slow offensive start in the first half, but with Melo's 13 points in the fourth quarter, they got this important win and now stand with a 6-4 record in the West.
In a post-game interview with Lillard, he was asked to comment on Anthony's performance. He stated, "I say it all the time, he's a Hall of Famer. And if it's anything we know he can do, is put the ball in the basket. And obviously, he's adjusting to a new role coming off the bench for the first time in his career."
ADVERTISEMENT
Article continues below this ad
He further explained, "Finding your rhythm and finding your stride sometimes is a little bit harder. He's not 25. He's a little bit older now and like I said, a new role. Different amount of minutes that he's playing so it's a smaller window of time for him to get himself going.
"Tonight, I just think you saw that Hall of Fame ability. He made shots, he was communicating, rebounding the ball. He had a huge impact on us pulling his game out."
ADVERTISEMENT
Article continues below this ad
It looks like Melo is doing justice to the faith Portland showed in him when nobody did. Will he continue to play a role in the Blazers' climb in the games ahead? We'll just have to wait and watch.