'Handsome Boo-Boo': Vanessa Bryant Posts Another Tribute in the Loving Memory of Kobe Bryant
Published 12/30/2020, 1:15 AM EST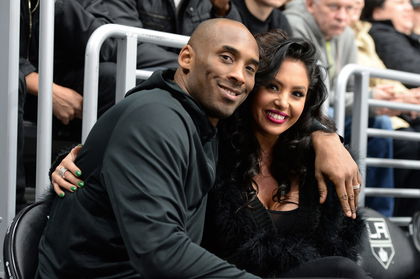 ---
---
The Los Angeles Lakers successfully paid their highest regard to late Kobe Bryant by winning the 2020 NBA championship. However, no achievement can be big enough to help fans forget the loss of a human as influential and as versatile as the Mamba. 
ADVERTISEMENT
Article continues below this ad
For fans of Kobe, it was a relief when his wife Vanessa made her Instagram account public, owing to the fact that her social account is the only window into Kobe's rare pictures and memories. Recently, she shared another post that left everyone emotional. 
In the loving memory of Gianna and Kobe Bryant
ADVERTISEMENT
Article continues below this ad
December 29, 2019, was a very important day for the Lakers, the Bryant family, and the fans. Why? Because it marked the last time Kobe Bryant took his daughter Gianna to watch a live NBA game and cheer for their obvious favorite, the Los Angeles Lakers!
On the anniversary of that memorable appearance, Vanessa Bryant shared an Instagram post where Kobe is meeting with LeBron James, Anthony Davis, Jeanie Buss, and others. She captioned it, "My gorgeous Gigi and handsome boo-boo. Mambacita and Black Mamba forever." 
Kobe was perhaps the Lakers' biggest fan, and it is only heartbreaking that he was not there to cherish when a group of brave men in purple and gold won the 2020 championship. 
Why is that particular outing so popular among the Black Mamba and Laker fans?
Well, it is because the then retired Kobe was actively playing like the Lakers' sixth man from courtside. He was continuously trash-talking in Slovenian every time Mavs' Luka Doncic was in close proximity to him. 
The rising Maverick himself revealed in an earlier interview, "He said some bad words in my language. I was like, 'who is talking to me in my language?' I was like, just looked behind and it was Kobe. It was something amazing. I would never forget this day. And after the game, I came, took a picture with him. He was one of the guys I looked up to. That day was amazing."
ADVERTISEMENT
Article continues below this ad
That night, the Lakers defeated the Mavs 108-95 with LeBron James scoring a 13-point double-double and Anthony Davis adding 23. 
Clearly, Kobe and his Mamba Mentality never went to sleep until his very last breath. And today, it is the responsibility of the Laker franchise and its fans to carry that torch forward.
#MambaMentalityForever
ADVERTISEMENT
Article continues below this ad
Read also – How Kobe Bryant Used His Grasp of Multiple Languages to Trash Talk and Get Into the Mind of His Opponents