HAPPY BIRTHDAY KD! When Team USA Incorrectly Wished a Bemused Kevin Durant at Tokyo Olympics
Published 09/29/2021, 11:45 AM EDT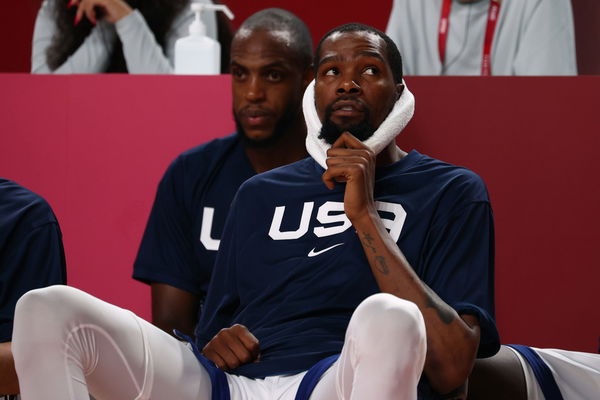 Over the years, Team USA has dominated the sport of basketball internationally. A key component in their success has been Brooklyn Nets star, Kevin Durant. The 33-year-old has been part of multiple title winning sides with his country.
ADVERTISEMENT
Article continues below this ad
In his illustrious career so far, 'KD' has averaged 27 points. He is a certified Thunder and Warriors legend, while his legacy with the Nets is only getting started. Yet, the forward's contributions for his nation have often been undermined. Even in the Tokyo 2020 Olympics, Durant played a vital role in changing Team USA's fortunes. He led his team to yet another gold medal. But the lesser known fact is that, just before the Olympic opening ceremony, the contingent adorably wished Durant a happy birthday. The only problem was that it wasn't his birthday then. The celebratory occasion is today.
ADVERTISEMENT
Article continues below this ad
Team USA hilariously wishes September-born Kevin Durant for his birthday in July
Back in July 2021, the American contingent was set to walk out for the opening ceremony of the Tokyo Olympics. However, the members had other ideas. The MVP on this occasion, was captain of the men's basketball setup Kevin Durant. Stranded in the center, Durant was the victim of loud celebrations, as a huge crowd began singing. "Happy birthday to you!"
ADVERTISEMENT
Article continues below this ad
However, Durant celebrates his birthday today, on the 29th of September. Multiple members of the basketball team took to social media to replay the hilarious incident. One of them was former Lakers player JaVale McGee. He posted a video of a confused Durant listening to the wishes, and said, "It's not his bday." The incident took place on July 23rd, just over two months prior to his actual birthday.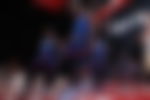 This throwback video was another hilarious reason to love the iconic Kevin Durant. All jokes aside, we wish the superstar a very happy 33rd birthday. May this year bring the Nets star loads of success and happiness!
ADVERTISEMENT
Article continues below this ad