"Has Kareem Shrunk Like 9ft?" NBA World Left in Disbelief as Lakers Legend Pens Down a Heartfelt Note to 6'3″ Skateboarding Legend Tony Hawk With an Iconic Unseen Photo
Published 01/23/2023, 5:30 AM EST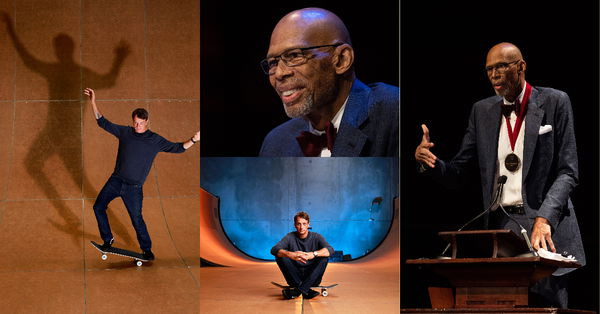 Former Los Angeles Lakers legend Kareem Abdul-Jabbar has never failed to interact with his fans whenever possible. Moreover, his kind heart and appreciation towards people are one of the main reasons why fans love him. Abdul-Jabbar continues to live in the hearts of fans, after his incredible career in the NBA. On one such occasion, Abdul-Jabbar's picture with legendary skateboarder Tony Hawk has gone viral on Twitter. 
Abdul-Jabbar's heartfelt note to Tony Hawk, the owner of the skateboard company 'Birdhouse' has pleased the fans of both sporting greats. Moreover, fans are surprised to see the height difference between the two as they stood next to each other. 
Two legends in one picture as Kareem Abdul-Jabbar meets Tony Hawk
ADVERTISEMENT
Article continues below this ad
The 19-time All-Star and the professional skateboarder bumped into each other coincidentally at the airport. Abdul-Jabbar put out a heartfelt note on Twitter mentioning, "Congrats Tony Hawk, on your NBC SNL gig last night. It was great bumping into you at the airport". 
Moreover, fans were surprised to know that Tony Hawk is 6'3″, as the picture shows a very minimal height difference between the two. Abdul-Jabbar, 7'2″, goes down as one of the tallest players to play the game of basketball.
Here are some of the reactions from NBA Twitter:
How tall is Tony Hawk? Or has Kareem shrunk like 9ft?

— Sean Forney (@SeanForney) January 23, 2023
Hawk looks alot taller than I thought he would be

— Elon Semaza (@DigiElon) January 22, 2023
Lol yo its wild to think Tony Hawk pulled off some of the moves he did/does at his height.. mf low key look like an NBA assistant coach

— Tim Pippen (@ReddyMadeAllen) January 22, 2023
Rex Chapman, former player of the Charlotte Hornets was one among the many fans to react to the picture, as he replied with "Fantastic" in the comments.  
ADVERTISEMENT
Article continues below this ad
Tony Hawk, along with a few other stars, took part in a small gig for NBC's 'Saturday Night Live' which the show shared on Twitter. Hawk was dominant during his career in skateboarding. The veteran has won a staggering total of 73 titles. He was one of the main people who made the sport famous all over America and across the globe. Hawk has also been active in promoting skateboarding as a legitimate sport and has been a vocal advocate for the inclusion of skateboarding in the Olympics. Moreover, he also was named the top vert skater every year from 1984 to 1996. 
Watch this Story: "Victor Wembanyama's height, how tall is the future NBA star compared to Shaquille O'Neal, Kareem Abdul-Jabbar and other NBA stars"
Abdul-Jabbar reflects on his meeting with Martin Luther King Jr. for MLK Day
ADVERTISEMENT
Article continues below this ad
A few days back for MLK Day, Kareem Abdul-Jabbar took time to tweet a picture of himself at a press conference with Martin Luther King Jr. In addition to the picture, he tweeted, "Celebrating MLK Day with a flashback photo in history. I was only 17 years old when this picture was taken. I was at a press conference where Dr. King was speaking. This photo represents inspiration to me to begin my writing career." The 6x MVP has always voiced his opinions through his social media. 
What did you make of the meeting between the two sporting icons? Let us know in the comments below.