"Have to Build a Wall": Chris Paul Desperate to Stop Giannis Antetokounmpo in NBA Finals Game 4
Published 07/12/2021, 11:32 AM EDT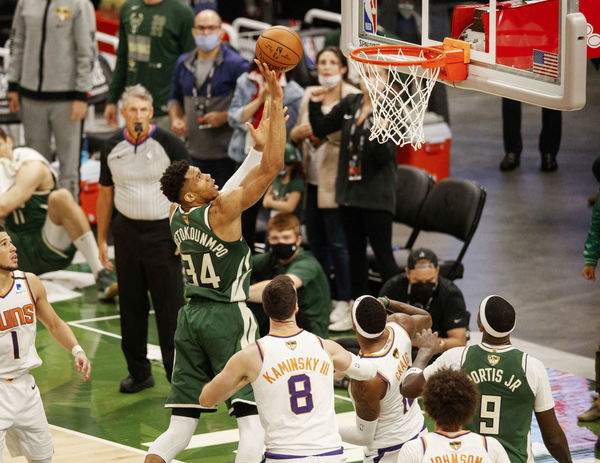 ---
---
Milwaukee Bucks took complete advantage of home support as they ran over the Phoenix Suns 120-100 to win game 3. The series now sits at 2-1, and looks to be an exciting NBA finals. Giannis Antetokounmpo & the Bucks have another game at the Fiserv Forum, where they will look to level the series.
ADVERTISEMENT
Article continues below this ad
Milwaukee outperformed the Phoenix Suns as they took game 3. They got more rebounds, blocks and assists.
Surprisingly, they also shot better from the free throw line tonight. However, it was the sheer dominance of Giannis Antetokounmpo that made the headlines.
ADVERTISEMENT
Article continues below this ad
He finished with 41 points, 13 rebounds and 6 assists in Milwaukee's win. Rest of the Bucks were good tonight as Jrue Holiday added 21 points while Khris Middleton racked up 18 to his name.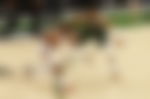 For the Phoenix Suns, it became a disastrous outing as no player could pass the 20 point mark. Chris Paul was the leading scorer with 19 points, while Crowder was efficient scoring 18 points on just 6/7 from deep.
Ayton had another good game to his name. However, Devin Booker couldn't follow up his game 2 performance as he scored just 10 points on 14% from three. Phoenix was poor from deep as they converted just 29% of their shots.
Chris Paul says they need to stop Giannis Antetokounmpo
After yet another dominating performance by Giannis, Chris Paul made it clear that Phoenix need to find a way to stop the 'Greek Freak'. He said: "We have to build a wall, somehow, some way."
"We have to build a wall, somehow, some way." – Chris Paul on defending Giannis

— Gerald Bourguet (@GeraldBourguet) July 12, 2021
Giannis Antetokounmpo made the inside his own as he scored 24 points in the restricted area on a perfect 12/12. This is tied for the most in an NBA finals, previously done by LeBron James in 2017, and Shaq in 2004. The 'Greek Freak' is the most explosive athlete in the NBA and knows how to use his size and strength.
The 2 time MVP is also great when it comes to drawing fouls. Giannis went to the free-throw line 17  times in game 3! Moreover, he went to the spot 18 times in game 2 as well, which is the 8th most free throws attempted in an NBA finals.
Giannis has mastered the craft of getting to his spot in the paint and finishing strong. He has the post moves and footwork to back up his size and huge body frame. It will take a mammoth of an effort from Phoenix if they want to restrict Giannis from getting inside.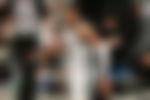 Can Phoenix stop the 'Greek Freak?'
Stopping Giannis Antetokounmpo is almost an impossible job, especially for Phoenix. While Phoenix runs deep with talent, they lack on size. Apart from DeAndre Ayton, they have no big man presence in their squad. Moreover, Giannis has often got the better of Ayton.
Game 1 seemed like Phoenix had figured how to stop Giannis. However, as soon as he was back to full fitness, he was as explosive as ever. In game 2, Phoenix tried everything from zone defence to man marking him. This was Giannis' 3rd 40 point game against the Suns in 5 meetings this season.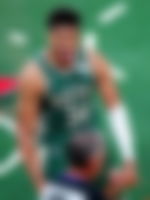 While Ayton is a great defender, he is not a shot blocker or rim protector. If Phoenix wants to stop Giannis Antetokounmpo, they would need someone who can meet him at the rim. However, the Suns lack a serious shot blocker in their roster.
ADVERTISEMENT
Article continues below this ad
To sum it up, as of right now the Suns do not have anyone who can challenge Giannis. If they try to double team Giannis, he can find his teammates for a clean shot. Even if he does not pass, Giannis Antetokounmpo can take anyone from the Suns from a physical standpoint and most likely draw a foul. It will take a lot more than making a wall to stop the 'Greek Freak' from dominating.
What do you think Phoenix can do to stop Giannis?
WATCH THIS STORY- Giannis Antetokounmpo's Historic Performance in Game 2 vs Phoenix Suns
ADVERTISEMENT
Article continues below this ad