'Have Zero Answer for Giannis': Reggie Miller Explains Why Phoenix Suns Cannot Contain Milwaukee Bucks' Giannis Antetokounmpo
Published 07/13/2021, 12:38 AM EDT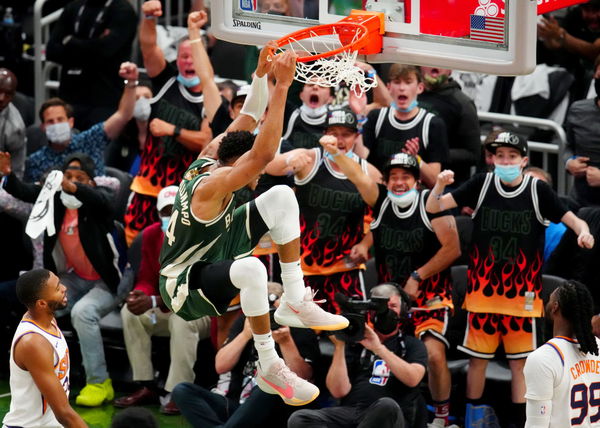 ---
---
After the Milwaukee Bucks' incredible outing against the Phoenix Suns in game 3, all eyes are now on Giannis Antetokounmpo. The superstar has brought his team back from the dead with his record-breaking performance that has left the whole world in awe of him. Not only that but also one of NBA's greatest Reggie Miller thinks the Suns don't have a way to contain Giannis.
ADVERTISEMENT
Article continues below this ad
If that's the case, Phoenix's hopes of winning their first NBA championship will fade away. And who knows when they'll come this close to getting it again.
Reggie Miller heaps praise about Giannis Antetokounmpo
ADVERTISEMENT
Article continues below this ad
Once the Milwaukee Bucks had dropped the first two games, winning the third was more vital than ever. Otherwise trailing 3-0 would have become near impossible to recover from. But thanks to Giannis Antetokounmpo, the Bucks have once again made the series more interesting with their 120-110 victory.
Just like in Game 2, when he scored 42 points, Giannis unleashed his wrath and put up a 41-point performance that left the Phoenix Suns trying to catch up the entire game. The only difference was his buckets in Game 3 came to fruition and gave them the win they needed. As the series becomes more gripping, Reggie Miller has now given his take on the Suns' tackling Giannis.
"They have zero answers for Giannis Antetokounmpo," he stated on the 'Dan Patrick Show'. "Whether it's DeAndre Ayton in his size trying to guard him, they downgrade and put Jae Crowder on him, Mikal Bridges, it doesn't matter. His size, his offensive rebounding, and now that he is starting to hit free throws, last night was his best trip to the free throw line, they had no answer for him."
WATCH THIS STORY: Best NBA Championship Celebrations That Includes Kobe Bryant's Iconic Pictures, LeBron James' Emotional Breakdown & More
Can the Milwaukee Bucks pull off an upset?
ADVERTISEMENT
Article continues below this ad
Another upside in Game 3 was the support Giannis got on the offense. Apart from him, Khris Middleton and Jrue Holiday also compiled 39 points together, along with additional help from Brook Lopez and Bobby Portis.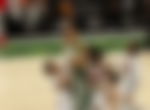 Even Reggie agrees that as long as Khris and Jrue even play reasonably enough, the Bucks are very difficult to beat. This is what was missing in Game 2 and Giannis' 42 points went down the drain. If the Bucks' supporting cast shows consistency, not only a tie is on the table but even a historic upset.
ADVERTISEMENT
Article continues below this ad