"He Can't Shoot, Better Be…": LeBron James' Teammate Trashes 6'9 Ben Simmons Leaving Kevin Hart Defenseless
Published 01/26/2023, 2:30 PM EST

Follow Us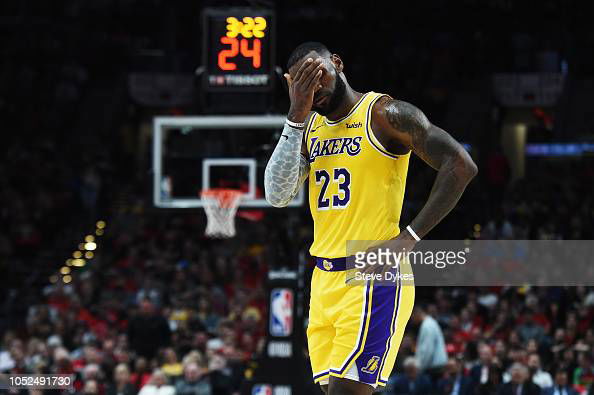 LeBron James's Los Angeles Lakers are not in a comfortable spot in the Western Conference points table. The Lakers find themselves at the bottom of the table in the 13th position with (15-21) record. Amid these worries, the Lakers point guard trash-talked the Brooklyn Nets point guard Ben Simmons leaving Kevin Hart perplexed. However, it's not new for the point guard to trash talk, as he has trashed LeBron James and Stephen Curry in the past.
The Nets point guard Ben Simmons missed out on several games this season due to knee soreness and hasn't been in his top form. Nevertheless, the Nets are on the top of the Eastern Conference points table in the third position with (22-12) record.
LeBron James's Lakers point guard bad mouths
ADVERTISEMENT
Article continues below this ad
In a recent episode of 'Cold as Balls' hosted by Kevin Hart, Lakers point guard Patrick Beverly answered Hart as he dipped in the ice tub. During one of the questions, he took a dig at the Net's point guard Ben Simmons. When the Jumanji actor was listing good defending point guards in NBA, Beverly already picked himself, Jrue Holiday, and Marus Smith as good defenders. But, when Hart named Ben Simmons, Pat Bev denied it immediately.
Beverly said, "[Ben Simmons] Hasn't played." Kevin Hart continued, "But when he did, Good defender?" The Lakers guard replied with an ugly comeback pointing to his height. He said, "6'9, better be, he can't shoot, better be."
ADVERTISEMENT
Article continues below this ad
Following Beverly's statement, Hart asked, "There are only 5-6 good defending point guards in the NBA?". Beverly replied firmly, "Three." When Hart reconfirmed the three names which he mentioned earlier, "You say, you, Marcus Smart, Jrue Holiday?" Pat Bev again replied with an affirmative 'yes'.
LeBron James gives a fitting reply to Pat Bev
During an on-court interview, NBA insider Chris Haynes revealed Patrick Beverly's favorite 'LeBron moment' to LeBron James. When James expected a response related to his best performances, Pat Bev had other ideas. According to Beverly, his favorite LeBron moment is when he blocked James' three-pointer during a Christmas game in 2019. King James burst into laughter and replied, "What is wrong with Pat, man? Pat got problems, man. He got issues."
ADVERTISEMENT
Article continues below this ad
Watch This Story – Magic Johnson Drops the Hammer on Kareem Abdul-Jabbar As LeBron James Nears Iconic NBA Scoring Record
Los Angeles Lakers struggle at the bottom of the Eastern Conference. Will LeBron James take his side to the Playoffs? Let us know in the comments.
Edited By: Gideon Mathson