'He Charmed Everyone': Sports Author Reveals How Much Michael Jordan Loved Media Attention
Published 06/06/2021, 5:30 AM EDT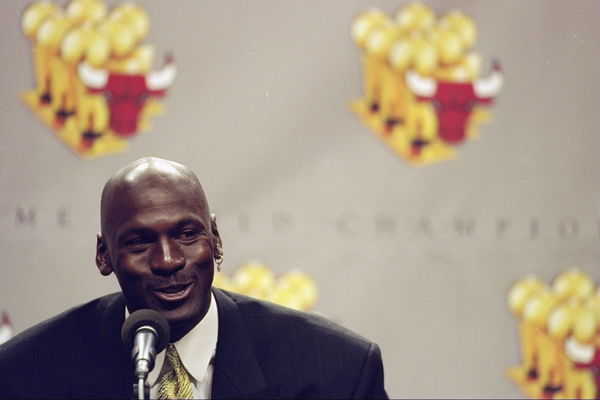 ---
---
Every time Michael Jordan came out on the court, he was out for blood. However, the opinion about his extremely competitive nature was split two ways in the league. Whether it was worth all the hatred he got from some opponents or teammates, or it too big a price to pay for the six trophies he so proudly held. However, outside the court, NBA fans revered MJ and a lot of it had to do with the media coverage he got back then.
ADVERTISEMENT
Article continues below this ad
Michael Jordan loved the media
In today's game, NBA players are usually made to take pre or post-game interviews but the way Michael Jordan attracted media attention, no other athlete has. Roland Lazenby, author of 'Michael Jordan: The Life' opened up about what Jordan felt about always being the prime focus.
ADVERTISEMENT
Article continues below this ad
Lazenby revealed what it was like dealing with Jordan. "He charmed everyone," Roland started off. "Everybody just globbed onto him. He was Jordan and he could really hold court. Had so much charisma and so much style. He would be dressed to the nine's before he ever came out."
"Today, the PR people put them at a table with a microphone and the media are at bay. But Jordan wanted to be in the center of that. He really wanted that connection just as much as the media wanted it. It was something to behold, something to participate in."
WATCH THIS STORY: Looking Back At Shaquille O'Neal and Dennis Rodman's Most Heated Face-off's
Did they project a good image of him at all times?
ADVERTISEMENT
Article continues below this ad
The Chicago Bulls legend was and still is, the measuring bar of greatness for all athletes, even outside the NBA. In fact, the audience was enchanted by his supreme athleticism, but was this the reality? Or was it what was just portrayed to us?
The unpopular opinion is that the media was made to ensure that Jordan's image remained intact – that it was in the best interest of the league for its greatest of all time to be adored. However, some of MJ's mishaps were difficult to undo, like his on-court conflicts. But that hardly changed how the audience viewed the GOAT. If this is true, it only means that the media did a brilliant job ensuring how MJ comes out in front of fans. Do you think that Jordan was depicted the way he is or is the bigger picture still missing?
ADVERTISEMENT
Article continues below this ad