'He Didn't Win Immediately': Celtics Legend Defends Jayson Tatum With Michael Jordan Example
Published 04/12/2021, 1:37 AM EDT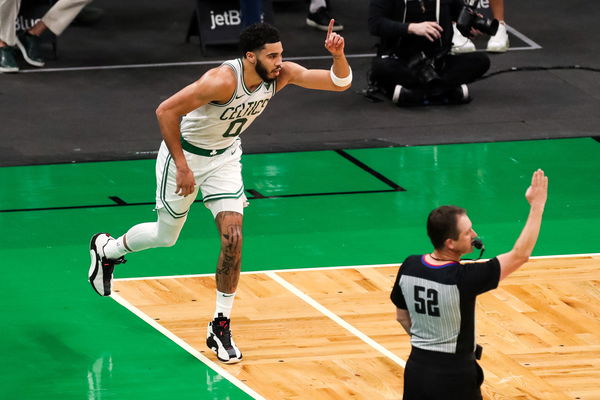 ---
---
The Boston Celtics were stumbling through the regular season up until now. They finally look like they're that Eastern Conference team that went deep into the playoffs last year and reached the conference finals. Although they're standing seventh in the East with a 28-26 record, they're also on a three-game winning streak. And out of this, one of the most outstanding games was against the Minnesota Timberwolves in which Jayson Tatum etched his name in Celtics history with an incredible record. In fact, he silenced all those criticizing him and even Celtics Legend Cedric Maxwell backed him up, comparing him with Michael Jordan.
ADVERTISEMENT
Article continues below this ad
Jayson Tatum compared to Michael Jordan
In their recent 145-146 win against the Minnesota Timberwolves, Jayson Tatum set the record straight about all the doubts around him with his big night. He ended the night with a historic 53-point performance. Thus, becoming the young player in Boston Celtics history to have 50+ points in a single game.
ADVERTISEMENT
Article continues below this ad
His new career-high score went along with 10 rebounds and 4 assists. This was a great way to seal the lips of all those haters and Cedric Maxwell didn't doubt Tatum even before this match. Prior to the game, Maxwell had explained how people aren't understanding that Tatum still has a lot to improve on. He stated Jordan as an example to prove his point.
"Michael Jordan's arguably one of the greatest players to ever play the game," he started off. "But, how long did it take him to win? He didn't win immediately when he came in and people had dubbed him for a while as a guy who couldn't win it. They said, "He's individual but he doesn't make guys around him better" and then all of a sudden he's the greatest, now, since he made guys around him better. Can Tatum or Brown do that?"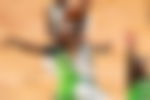 The Boston Celtics star just recovered from COVID-19
Maxwell also wanted to remind all the critics that Jayson Tatum has just recovered from the COVID-19 virus. This lethal virus has affected millions of people's health and isn't easy to recover from.
"There's a legion of guys out there that are not fond of Jayson Tatum and what he's done so far this year. I've said before, we don't know how COVID's affected Jayson Tatum because there was one game in particular where he said, "I was playing against Washington and I couldn't breathe," revealed Cedric.
Cedric can't believe how much the perception around Tatum has changed since last year. Just because they aren't doing as well this year, doesn't mean he isn't the same superstar we saw wreak havoc the year before. "It went on from that to, "Jayson Tatum's not a leader, Tatum's not this, Brown's not that," and it's like, calm down," Maxwell added.
ADVERTISEMENT
Article continues below this ad
"How old is he? He's just really learning to play the game at a professional level and now you give him all the keys to the castle, and you just expect him to know it just like that. It was so much noise surrounding what they've done and what they have not done."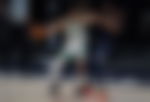 Do you think it's fair to place so many expectations on such a young player? Or are you leaning more towards the logical reasoning Maxwell just gave?
ADVERTISEMENT
Article continues below this ad
Read also- 'Live up to Your Role': Former Celtics Champion Calls Out Jayson Tatum for Underperforming