"He Dishonored Me So I Don't Owe Him Any More Honor": Michael Jordan, Accused of Being $1.2 Million in Debt, Silenced the National Golf Controversy in 1993
Published 12/24/2022, 2:30 PM EST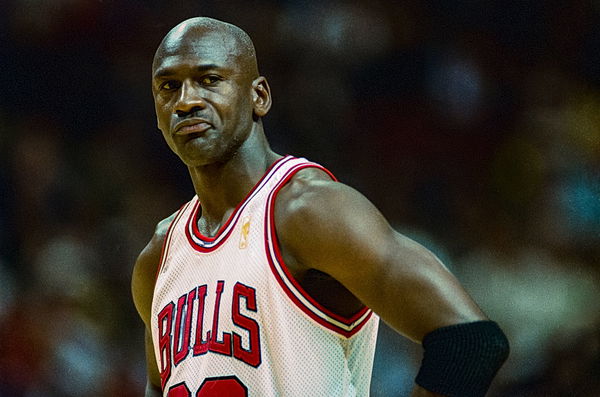 Michael Jordan has been one of the greatest sporting icons in the country for several decades now. The Chicago Bulls legend has created a legacy that has transcended his greatness beyond the confinements of a basketball court. Jordan has been an inspiration to generations who aspire to strive for greatness in a similar way. However, His Airness also liked to indulge in some questionable thrills of life, like gambling. His love for gambling brought him a lot of negative attention as he found himself in the midst of several controversies throughout his career. However, in 1993, after being accused of having a $1.2 million gambling debt, Michael Jordan put the national golf controversy to bed in this iconic interview.
In his own words, MJ loved gambling because the sport gave him an outlet to exercise his competitive spirit outside the basketball court. However, things started to take an ugly turn in the 90s as an array of gambling-related controversies plagued Jordan's public image. In fact, all hell broke loose when Richard Esquinas published his book "Michael & Me: Our Gambling addiction-My cry for help!" during the 1993 playoffs, claiming that MJ owed him about $1.2 million in gambling debt.
Michael Jordan took a bold stance against Richard Esquinas
ADVERTISEMENT
Article continues below this ad
In an interview with CBS' Connie Chung in 1993, Michael Jordan denied the claims of losing $1.2 million to Richard Esquinas. Jordan revealed that he had lost around $300,000 and nearly paid it up over a three-year period. Moreover, the Bulls legend stated, "I paid it up. Actually, I was in the process of finishing off all the payments, but when he pulled this stunt, we never had a written agreement, and I was more or less going off my honor. And I felt like he dishonored me, so I don't owe him any more honor at all."
Jordan felt dishonored by the accusations and believed that Esquinas' public smear campaign absolved him of any remaining debt payments. He also proclaimed the $1.2 million gambling debt accusation as untrue, silencing the national golf controversy.
ADVERTISEMENT
Article continues below this ad
Michael Jordan found himself in the midst of a national controversy when a 1991 report revealed that the Bulls legend paid $165,000 to settle his gambling debts. The report also suggested that MJ owed money to a convicted cocaine dealer he had played golf and gambled with in the past. Unfortunately, the NBA reprimanded Jordan for gambling with 'unsavory characters'. After that came Esquinas' aforementioned claim.
Esquinas accused Jordan in a dishonoring book
Richard Esquinas wrote a book titled, "Michael & Me: Our Gambling addiction-My cry for help!" Apart from recounting his gambling escapades with MJ, Esquinas claimed that a crazy gambling spree while playing golf ended with Jordan owing him about $1.2 million. 
ADVERTISEMENT
Article continues below this ad
Watch this story-  Top 5 NBA signature celebration moves, LeBron James, Stephen Curry, Michael Jordan, and more 
The book was released in 1993 during the playoffs when the Jordan and the Chicago Bulls were aiming for their first three-peat. The book riled up a lot of drama among NBA fans. However, Michael Jordan managed to achieve his first three-peat despite all the chaos.
Edited By: Satagni Sikder