'He Does it Everywhere He Goes': Miami Heat's Duncan Robinson Calls Out Russell Westbrook's Critics
Published 04/02/2021, 11:30 AM EDT
---
---
Russell Westbrook is arguably one of the flashiest point guards the NBA has ever seen. Unlike the majority of point guards in the game, Brodie does lack an efficient jump shot but makes it up with his immaculate physicality.
ADVERTISEMENT
Article continues below this ad
Ever since his move to the Wizards, Westbrook has certainly been overlooked and has been deemed as a player in decline. While his numbers might have taken a slight dip, ruling him out as a superstar seems pretty harsh.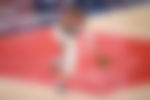 Russ might have seen a slow start to his season, but ever since the All-Star break, he has picked up massively. In the 13 games he has played since the break, Westbrook has averaged a staggering 24.5 points, 12.4 assists, and 11.4 rebounds triple-double per game.
ADVERTISEMENT
Article continues below this ad
Miami Heat's Duncan Robinson believes Russell Westbrook is under-appreciated
Westbrook continued his phenomenal form in a matchup against a good playoff side in Indiana Pacers. The Wizards were missing a key player in Bradley Beal, and Brodie had to put on a special performance for a win.
The 32-year-old took it upon himself to perform against the Pacers. In the 39 minutes he was on the court, Westbrook put on a record-breaking triple-double with 35 points, 21 assists, and 14 rebounds. The Wizards ultimately won the game 132-124.
While fans and players alike were bamboozled by Russ' display, pundits like Stephen A. Smith were critical of the 32-year-old. But Miami Heat guard Duncan Robinson certainly doesn't agree with the same.
ADVERTISEMENT
Article continues below this ad
In an appearance on the Long Shot podcast, Robinson said, "The Russ slander will not be tolerated. At some point, you just have to sit back and be in awe."
Robinson went on to explain why Russ has been at the center of multiple criticisms and why he deserves more respect and said, "I mean, he's been doing it for so long to which makes it so impressive is just the longevity and he does it everywhere he goes….. And everyone seems to think that he's done, and he's washed up."
ADVERTISEMENT
Article continues below this ad
He added, "I think the misconception of pinning it on one player, just because they haven't been able to get it done from a championship perspective, it takes so much more than that."
Robinson's comments are somewhat of a jibe at the recent narrative surrounding Russ' lack of titles. Given his age and the massive contract he is in, Westbrook might not have a shot at the title soon. Even if he does end up without a title, Brodie will still remain one of the most athletic point guards ever.