'He Doesn't Care': Warriors' Steve Kerr Explains Why Draymond Green Thinks of Himself as the Greatest Defender
Published 03/25/2021, 12:30 AM EDT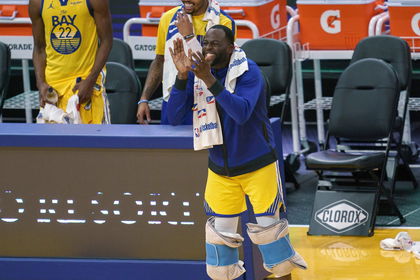 ---
---
Draymond Green is the epitome of self-confidence and someone who can tear any offense down. He has done it for consecutive years when the Warriors enjoyed their golden run a few years back. Even in the last season when both Steph Curry and Klay Thompson were sitting out, it was because of Green that they could collect at least some wins.
ADVERTISEMENT
Article continues below this ad
The GSW veteran has always been vocal about praising others and also been good to his own self. Recently, DrayMagic tagged himself as the "best defender to ever play in the NBA" and attracted massive attention. While some agreed, many disagreed and argued against it.
ADVERTISEMENT
Article continues below this ad
Warriors' Steve Kerr came out to cover against Draymond Green's critics
In a recent interview, the Warriors' head coach Steve Kerr explained how Dray's thinking makes him stand apart. The 55-YO champion coach expressed, "The beauty of Draymond is, he doesn't care. Go ahead, make your list, I learned a lot about Draymond in my first couple of years in coaching. One thing I learned about him is that he has so much belief in himself, another reason he has made it this far and done as well as he can… If he makes you uncomfortable with something that he says, adds only fuel to the fire. That's part of who he is. He wants to convince himself that he's the greatest defender of all time, and that's huge." 
In Dray's nine years with the Warriors, he has always guarded the best of the best. When against the Clippers, he would jump on to guard the highly unguardable Kawhi Leonard and utilize his confusing stance to trick The Claw.
When against the Blazers, he would switch between tackling Damian Lillard and CJ McCallum to force errors on their long-range shooting. He practices alongside one of the greatest shooters in the game (Steph Curry), which is why he is so good against other top shooters. 
Read Also – Warriors' Draymond Green Reveals How Klay Thompson Held Him Accountable After Ejection Against Hornets
When Tony Allen and Dray had a back-and-forth
Just as Draymond Green made that arguably narcissist comment, many former players jumped on him. One of those was Tony Allen, a former Celtics/Grizzlies player. Just as Tony used Jay-Z's rap lyrics to show how Dray might not yet deserve the accolade, the GSW star retaliated. Take a look –
I was waiting on you to stamp me Big homie, but your stamp book started running low in 2015 when we used you against your team on the way to my 1ST championship. https://t.co/mDHfltdfZ0

— Draymond Green (@Money23Green) March 23, 2021
ADVERTISEMENT
Article continues below this ad
Back in 2015, the Warriors played and won their first NBA Finals after a wait of 40 years. That year, Steve Kerr was a rookie coach for them, while Draymond had shown immense improvement in his numbers.
In the WC semis, the Warriors had sent the Grizzlies packing after trailing 1-2 earlier in the series. In that particular series, Draymond had averaged 1.8 steals, while Tony had averaged 2.4 steals, but to no avail. 
ADVERTISEMENT
Article continues below this ad
Later, Draymond went on to become DPOY in 2017 and won five All-defensive team selections. All this does make his case stronger as a versatile and celebrated defender. But is he really the greatest? Help us know your views in the comments.