'He Finds His Peace': Klay Thompson's Father Reveals What Brings the Warriors' Star Immense Happiness
Published 03/01/2021, 8:47 PM EST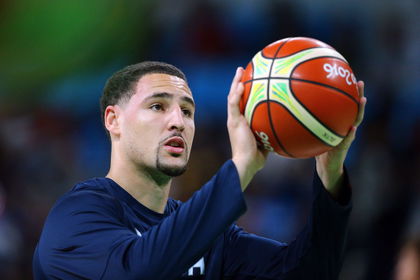 ---
---
2020 was a crazy year for obvious reasons, and it seems to have left its mark on the 2020-2021 season as well. Even before the season could begin, the world learned of the news of Klay Thompson getting injured yet again. This was heartbreaking, not just for the Warriors but for the entire hooping community because this meant one less All-star to look forward to.
ADVERTISEMENT
Article continues below this ad
However, thanks to the advent of social media, Klay is never away from his fans and always keeps his followers engrossed with his wise tweets and insightful updates. But after scanning hundreds of his posts, one commonality arises. His father, Mychal Thompson, talks about this.
Klay Thompson and his unequivocal love for water
ADVERTISEMENT
Article continues below this ad
Mychal, 66, is a former NBA player who was the first draft pick back in 1978. He is quite similar to his son on various fronts. He missed his 1979-80 season due to a leg injury, just as Klay missed the 2019-20 season before missing the current one. Secondly, both of them share an immense love for being on the water. The paparazzi often spot Klay spending time on a kayak or a boat, somewhere in the serene Oceanic waters. 
In an interview, Mychal revealed why Klay Thompson loves such outdoor activities. He expressed, "Ever since he was a kid — going swimming, jumping in pools, jumping in lakes up in Oregon, jumping in the river … he was always fascinated and attracted to the water. I think it's part of his Bahamian roots."
The Californian Klay is perhaps fascinated by the calming property of water. And mental calmness is something he dearly needs since he has been forced to stay away from basketball for so long. Prior to this season, Klay was pumped to make his comeback after 1.5 years of inactivity and even shared a picture of himself working out before the tryouts. However, it all went south when he got injured, and he had to go back to his other love, the water.
The Warriors' star is a true water sport junkie
Once a sportsman, always a sportsman. When not on the hardwood, the Warriors' star finds his solace in enjoying watersports. As his father added, "He loves to go fishing, he loves to go snorkeling, scuba diving … whatever you can do in the water, that's where he finds his peace. And I don't blame him, because I'm the same way."
ADVERTISEMENT
Article continues below this ad
Klay keeps posting pictures, showing off his Tissot watch while fishing or playing chess somewhere close to an island by anchoring his boat. He even took his dog boating and spent Valentine's Day hugging the waters. Isn't this the perfect outing for someone who plays for a team that has the Golden Gate Bridge on their logo? Klay Thompson is surely going to hit like a wave once he comes back to the floor.
ADVERTISEMENT
Article continues below this ad
Read also – Klay Thompson's Father Advices Steph Curry and His Son to Follow LeBron James' Footsteps