'He Got This Look on His Face': Magic's Backstory Behind Michael Jordan's Famous NBA Finals 'Shrug'
Published 02/05/2021, 7:30 AM EST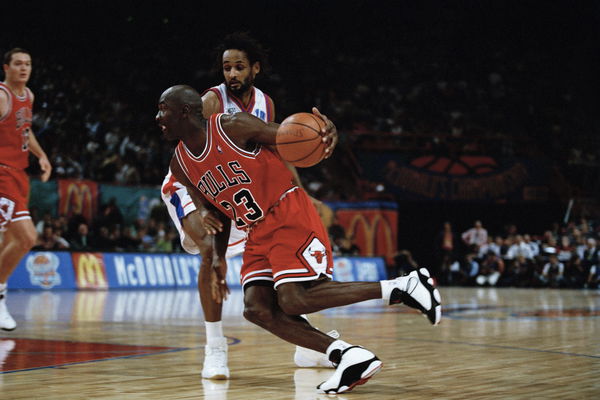 ---
---
As the world learned from the 'Last Dance', Michael Jordan takes it personally, so provoke him at your own peril.
ADVERTISEMENT
Article continues below this ad
Very recently, his former rival and current friend, Magic Johnson, appeared on 'Jimmy Kimmel Live'. The host asked him about that famous shrug MJ made towards him during Game 1 of the 1992 NBA Finals against the Trail Blazers.
Johnson proceeded to elaborate on this and said, "I'm on NBC, calling the games. So I'm at his house the night before. He (Michael Jordan) called me, 'Come on out.' So I went to his house, and we played cards."
ADVERTISEMENT
Article continues below this ad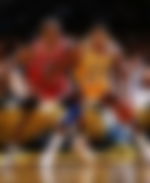 Magic further added, "So we were playing cards, and it got to be about 1 am in the morning and the game's the next night. So I said, man, let me go so you can get some rest. 'No, you stay here because I'm gonna tear Clyde Drexler up tomorrow.'… And he got this look on his face like he wanted to play him right then… So I'm thinking, 'OK, maybe he just said that.'"
Why did Michael Jordan wish to destroy Drexler?
In the buildup to the game, the media had billed it as the battle between Jordan and Drexler. But the Chicago Bulls star considered himself to be in a different stratosphere than Clyde, who the critics considered as one of the best three-point shooters in the NBA back then, so MJ decided to target the strongest area of his enemy.
ADVERTISEMENT
Article continues below this ad
"So we get to the game, and he hits that first three, the second three, the third three. Now, remember, he's hitting them in a row. He hits six threes. The last one he hit, he turned and looked at me and said [shrugs] … saying, 'What did I tell you I was gonna do?'" said Magic. These tales highlighting the competitive spirit of the most influential sports person of all-time will never get old. MJ's crying meme has truly been overshadowed by the 'I took it personally' meme now.
ADVERTISEMENT
Article continues below this ad