'He Has Earned the Right': Lakers' Jared Dudley Explains the Importance of Having Talen Horton-Tucker
Published 02/09/2021, 11:23 AM EST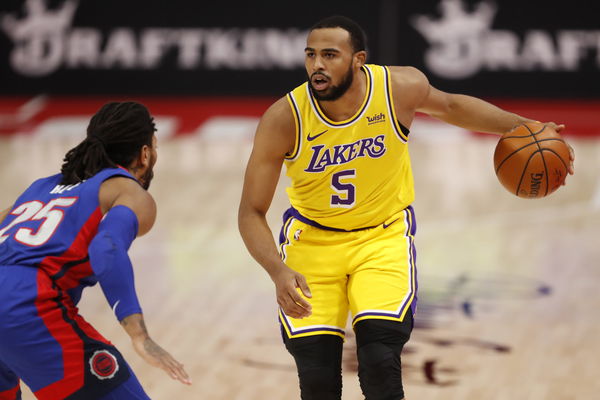 ---
---
After shooting pathetically from the field, the Los Angeles Lakers finally found their sense of direction in the fourth quarter. They sure got affected by the absence of their two injured players, Anthony Davis and Alex Caruso. However, they pushed their game against the Oklahoma City Thunder into overtime and won 119-112. Although Jared Dudley did not play this game either, he had some interesting thoughts on their young player, Talen Horton-Tucker.
ADVERTISEMENT
Article continues below this ad
Role of Talen Horton-Tucker
Talen Horton-Tucker wasn't a very popular NBA player when he joined the Lakers. He was the 46th overall pick in the 2019 NBA Draft, but he is showing the franchise slowly and steadily that investing in him was the smart move. When he played in the starting lineup during the preseason, he took the league by storm with his incredible performances.
ADVERTISEMENT
Article continues below this ad
In fact, his latest demonstration against the Denver Nuggets was also applaudable. He finished the night with his season-high 17 points. As a veteran, Dudley is also noticing the growth he is seeing in Tucker. He also explained prior to the Lakers game against OKC why Frank picked Tucker over Markieff Morris and Wesley Matthews in the nine-man rotation.
"Let's just be honest, Talen Horton-Tucker has earned the right. He's not only talented, but he has produced. He has produced at a high level and he brings something to this team that we don't have. That's someone who is attacking, finishing. LeBron obviously does that but this guy brings a little, he is 20 years old, a little more pop to it when it comes down to it. And his shot-making ability," Dudley stated.
ADVERTISEMENT
Article continues below this ad
Will he play a bigger role soon with the Lakers?
Horton-Tucker goofs up a little here and there, but he has certainly earned the respect of his teammates. It won't be anytime soon that he gets to play even longer minutes, but if he does well with the time he does get, you never know.
The Lakers are one of the top two teams in the Western Conference. With a 19-6 record, they aren't too far from taking over the Utah Jazz, who are standing at the first position for a while now. As long as their players stay healthy and they don't lose easy games like the one against the Pistons, the purple and gold don't have much to worry about. They are still at a very good position to land their second straight title.
ADVERTISEMENT
Article continues below this ad