'He Has Nothing to Do': Comedian Kevin Hart Pokes Fun At Shaquille O'Neal and Receives the Punishment
Published 01/24/2021, 11:30 PM EST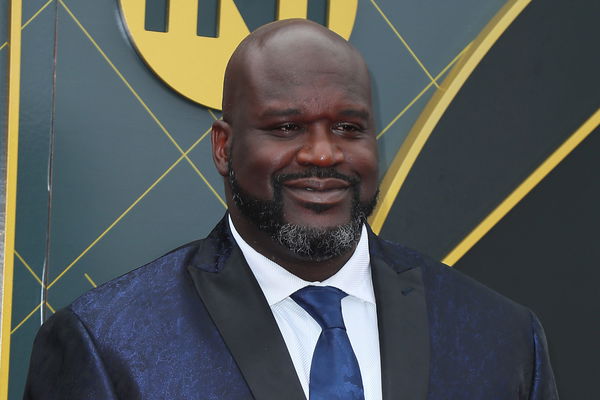 ---
---
Shaquille O'Neal was like Thanos for his opponents, as he could handle half the opposing team alone. He was this massive, intimidating, and dominant figure whose presence was enough to scare off many. In fact, the coaches from the rival side would devise a Shaq strategy to tame this man who paid no heed to double-teaming, etc.
ADVERTISEMENT
Article continues below this ad
That said, Shaq is also someone who is very active at social work. He would often stop by needy people and help them out in any which way possible. This proves that he's great at handling not just basketball but also the social side of life. But how good is he with trash jokes coming his way?
Kevin Hart made fun of Shaq's retirement
ADVERTISEMENT
Article continues below this ad
In a talk show, Jumanji fame Actor-Comedian Kevin Hart was sitting with Hollywood star Justin Timberlake when he could not stop himself from cracking jokes at Shaquille O'Neal. He hysterically claimed, "He [Shaq] is retired, he has nothing to do, he's at the most random places. I'm serious, I was at Home Depot two weeks ago, he was helping people, he wasn't even shopping, he was helping them put stuff in the column [imitiates Shaq], he has got nothing to do with his time right now, nothing."
A moment after, Shaq made his grand entry and responded by lifting Kevin up just like he would lift and put back his dumbbells. Enjoy the clip – 
The 4-time NBA Champion and the Olympic medalist is certainly a very funny man off the court. He is generous, harsh with his jokes, sarcastic, and knows his way with the audience. One more reason we love Shaq more and more. 
When Shaquille O'Neal lost a bet to a popular comedian
Earlier, Kevin met with Shaq over a video call and ended up making a peculiar bet. A curious Shaq wanted to greet Kevin's kids and ended up making a bet in the process. He told Kevin, "Where's the babies at? Can I say Hi? I bet you $1000 that when I smile, he's going to smile."
To this offer, the comedian responded, "That'll scare him. If my son cry, I want the money."
A few minutes into the VC and there he was, a 3-YO Kenzo Kash Hart, looking eye-to-eye at the giant. As one can guess, he almost started crying, or as Kevin termed it, gagging. The NBA legend very clearly lost his bet.
ADVERTISEMENT
Article continues below this ad
Then, in a recent interview, the Big Shamrock simply denied paying for that damage. He unapologetically said, "No, no, Kevin set me up. I don't have a check right now, but Kevin Hart, I will not pay you your money. You will not be receiving one dime, one penny, one nickel from me." Take a look –
Did you like the on-court Shaq more or the off-court version? Help us know in the comments.
ADVERTISEMENT
Article continues below this ad
Read Also – WATCH: Donovan Mitchell Maintains His Class Despite Shaquille O'Neal's Insulting Remarks