'He Just Had a Better Offense': Former NBA Champion Opens up on Guarding Michael Jordan
Published 12/19/2020, 8:07 AM EST ---
---
By the time Michael Jordan became a member of the Washington Wizards, he had already seen it all. Jordan had a plethora of individual and team accolades. He was already a legendary figure in the game of basketball.
ADVERTISEMENT
Article continues below this ad
But his stint with the Wizards was not as iconic as his time with Bulls. He clearly lost a step in his game. Despite that, Jordan cooked his opponents when he wanted to.
Shawn Marion details his experience guarding MJ
ADVERTISEMENT
Article continues below this ad
Former NBA player Shawn Marion shared a similar story about His Airness in a recent interview. Marion was handed Jordan's assignment in the dying minutes of a 2002 game. He said:
"Man, I am trying to block his shot, what are you talking about man? He was shaking in his boots. That's MJ, come on now be real, that's it. He was like don't get the game winner on me. I am [defending] that man up the best I way I can. Look, I am all over him, that was great defense, but he just had a better offense."
Despite Jordan being in the last stage of his career, he was a sight to watch. In that particular game, he proved he still had a lot left in the tank. Jordan sealed the game for the Wizards by hitting another one of his iconic game winners.
Was Michael Jordan "washed" during his stint with the Washington Wizards?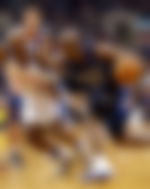 When Jordan came out of retirement to play for the Wizards, the league had moved on from MJ. Furthermore, the Wizards' roster was not on the same level as that of the 90s Bulls.
ADVERTISEMENT
Article continues below this ad
So it was already a long shot for Jordan to carry that team to an NBA Championship. However, despite all odds, MJ was doing great for the Wizard's early season. But right before the All-Star break, MJ injured his knee and was never the same.
In that time span, the Wizards lost several games. By the time Jordan returned, the season was already beyond saving. Keeping that in mind, Jordan was still a great player, even in his late 30s.
ADVERTISEMENT
Article continues below this ad
Did you like Michael Jordan's game with the Washington Wizards?