'He Plays Bully-Ball' Lakers' Legend Shaquille O'Neal Reveals Why He Likes Pelicans' Zion Williamson
Published 02/28/2021, 5:30 PM EST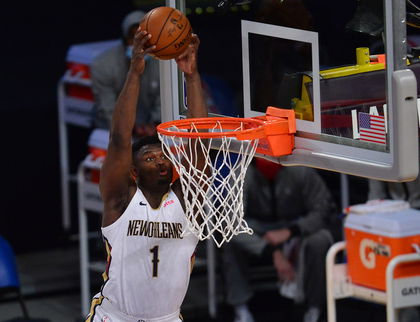 ---
---
Ever since Zion Williamson made his debut in the NBA, he has been a dominant force. With his massive 284lb frame, Zion has an electrifying pace and fiercely drives to the basket. His dominant displays on the court have garnered comparisons to Lakers' legend and Hall of Famer, Shaquille O'Neal.
ADVERTISEMENT
Article continues below this ad
In a recent appearance in the Rich Eisen show, the 4-time NBA champion spoke about how the era of big men has finally returned. Shaq said,
"Yeah, they are starting to play big. Especially Zion, I like the way he plays. He plays bully ball. This league has been a copycat league for so long. But you know, when you're a great player, you don't do what everybody else do, and you make them adjust to you."
ADVERTISEMENT
Article continues below this ad
Shaq also said why he would be dominant in this era despite missing a jump shot. "I laugh when people say I could never play in this era that makes no sense to me. I will make people adjust to me, I'm not shooting no threes. Every time you shoot a three a miss. I'm running right to the middle of a stand and then you will have to double and triple like you always did."
He added, "I just like big guys to be big. And you know, just use your size. Because the game says you can shoot three pointers don't mean you have to go out there and shoot three pointers."
Is Zion Williamson the new Shaquille O'Neal?
Shaquille O'Neal was probably one of the most dominant centers the league has ever seen. The 7'0″ center was a juggernaut on the court and could force his way to the basket at will.
With ball handling skills like a guard, Shaq could do it all. It's been a while since the league has seen a player like Shaq. Zion might be the perfect answer for that. The 20-year-old forward might not be as tall as Shaq but is already one of the most dominant players in the league.
ADVERTISEMENT
Article continues below this ad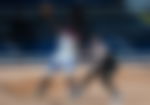 The 6'7″ forward similar to Shaq is one of the fastest players on the court and is comfortable with the ball. He has a varied arsenal, including a decent enough jump shot. But his most underrated skill has been his passing.
The 20-year-old is capable of dictating the offense and is able to find the right pass. This is evident in the last five games as he is averaging 28.0 points, 8.6 rebounds and 4.8 assists per game.
ADVERTISEMENT
Article continues below this ad
If Zion continues to develop his game, we might be seeing an all-round player with the dominance of Shaq, which in theory sounds outright scary. Is Zion Williamson the new face of the NBA?