'He Slaps Someone Behind': Dominique Wilkins Reveals How Michael Jordan Warned Atlanta Hawks Before His Record Performance
Published 05/28/2021, 5:30 AM EDT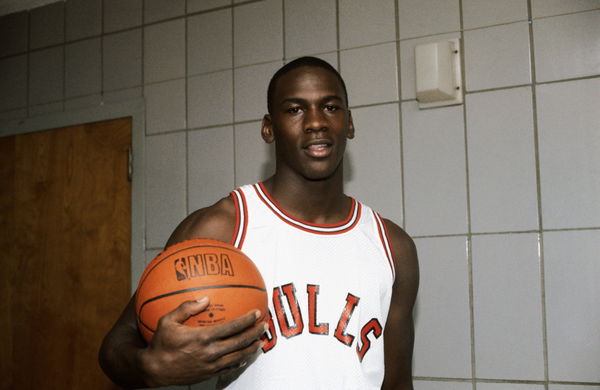 ---
---
Over the decades, fans have come across some great NBA Slam Dunk Contests. However, even now, none of these contests have ever come close to the one that saw Dominique Wilkins pitted against Michael Jordan. From showmanship to the skills they displayed, it was a showdown that has gone down in the history books.
ADVERTISEMENT
Article continues below this ad
Since then, Jordan and Wilkins may have been considered rivals, but Wilkins still believes the greatest performance he has ever seen on the court was by MJ.
Michael Jordan comes to Dominique with a warning
ADVERTISEMENT
Article continues below this ad
In a recent interview, Dominique was asked about the best performance he has ever seen in his career, and of course, he took Jordan's name. Back when Wilkins was playing for the Atlanta Hawks, he had an unforgettable encounter with Jordan and his Chicago Bulls.
"The best performance I ever witnessed was against Michael Jordan," Wilkins said blatantly. "I never had a player who did this before. I think I had 57 in Atlanta. We go back to Chicago weeks later and I remember Michael Jordan walks into our locker room before the game. And I am like, 'What the hell is he doing?'
"I am thinking maybe he is going to the training room or something. So, he walks by me, he walks by Kevin Willis and he gets to Randy Wittman and he slaps someone behind and said, 'Lace 'em up! It's going to be a long night." He turned and then walked out. I am in shock and I didn't know what to say. I said, 'Well you tell that so-and-so Scottie Pippen, I am going to kick his a**'.
What the Chicago Bulls pulled off after this
It was right after this that Dominque saw the greatest performance of his life. "He had 60," he stated. "Even though he had 60's but the way he had it. It was electric man! It was incredible."
In fact, Wilkins could not stop praising his foe and said, "He was an assassin. A killer out there on the floor".
ADVERTISEMENT
Article continues below this ad
This wasn't the only time MJ had Wilkins in awe as Wilkins confessed, "My greatest battles I have had were against Michael Jordan."
Jordan was the first player to ever win the Slam Dunk contest twice in a row, making his best case for being the greatest dunker the NBA has ever witnessed. No wonder Wilkins considered him his biggest competitor.
ADVERTISEMENT
Article continues below this ad