'Don't Wanna Hear all the Crying': NBA Hall of Famer Backs LeBron James & Lakers But Also Shares Words of Caution
Published 05/04/2021, 7:30 AM EDT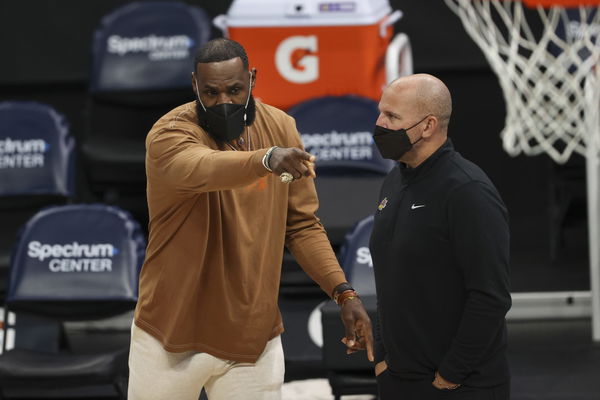 ---
---
The Lakers finally enjoyed the light of the day after having lost six of their seven matches prior to meeting the Nuggets. The Staples Center saw its home team winning 93-89 in a game that LeBron James missed because of his continued ankle troubles. 
ADVERTISEMENT
Article continues below this ad
Even after posting this victory, the Lake Show is not out of the play-in danger because their upcoming matches are very tough. Add the dark clouds over Bron's fitness to the bill, and the franchise still has a long way to go. So where do they stand in terms of the possibilities of reaching/winning the conference finals?
Reggie Miller gives his prediction on the Lakers
ADVERTISEMENT
Article continues below this ad
NBA Hall of Famer and 5x All-Star, Reggie Miller, sat down for an interview where he discussed everything that has been going on with the Lakers. The 55-YO claimed that the Lakers are a very tough side to beat in a series of seven, but he also had some words of caution. He detailed, "To me, it's all about health. And, if LeBron and AD are healthy, the Lakers are always the team to beat. Now I know LeBron has been back two games… and they just have not looked well."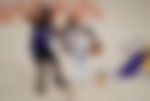 The Pacers legend then touched upon Bron's play-in comment, which had him indirectly and unintentionally targeting the NBA Commissioner. Miller questioned, "Where was all this talk a month ago? Two months ago? When the Lakers, when Boston, the Dallas, they were securely one of the top six teams. Now they're on the outside, possibly looking in… there's a little bit of crying."
Kendrick Perkins had in another interview counted the reasons that make the play-in important, and Reggie did that too. Plus, he warned the Lakers and said, "LeBron goes down, AD goes down, and now they're kind of on a nose-dive, looking at 7 through 10. So I don't wanna hear all the crying."
Read also – List of Every LeBron James Injury that He Endured in the Last 18 Years
What are LeBron James and his unit going to do from here?
After the Lakers lost their game against the Raptors, a dejected Kyle Kuzma had given a rather alarming interview. In it, he was almost at a loss for words and had expressed his desire to see Center Marc Gasol gain more playing minutes. Well, Marc did not get many minutes added to his outing against the Nuggets, but he made the most of his 18 minutes. Marc added 10 points, 7 rebs, 2 assists, and a block at 75% shooting to make his statement.
ADVERTISEMENT
Article continues below this ad
Plus, in the absence of Dennis Schroder, Alex Caruso started the game and played efficiently with +4 in plus-minus, adding 11 points. But most refreshingly, Anthony Davis found his form and scored a game-winning 25 points against a defense-heavy Nuggets. 
If this game was a testimony to the Lakers' upcoming games, they are in good hands. But they'd still want a totally fit LeBron to give them that psychological boost in the biting WC. Bron's words of "I don't have too much level of concern" won't alone help the Lakers.
ADVERTISEMENT
Article continues below this ad
Can the Lakers reach the WC Finals as Reggie projected?