Here's What Brooklyn Nets' Kevin Durant Had to Say to Giannis Antetokounmpo After Milwaukee Bucks Defeated Them in Game 7
Published 07/24/2021, 11:00 PM EDT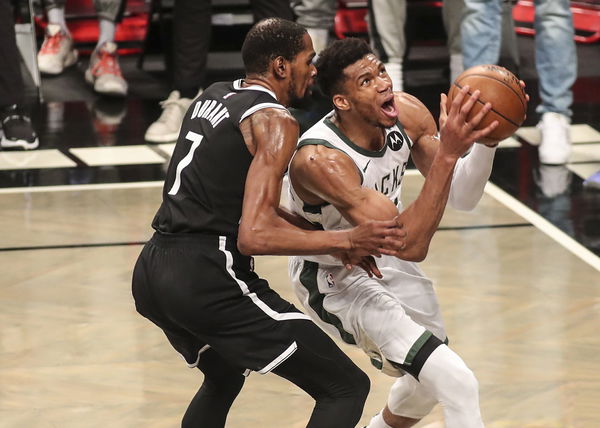 ---
---
The Brooklyn Nets were inches away from all the expectations that were bestowed upon their franchise. After putting together the 'Big Three' of the season, fans were looking forward to the team heading straight to the NBA Finals. In fact, even winning the NBA Championship. But the Milwaukee Bucks came in their way. And even though the Nets were able to take the game to Game 7 in round two, they were sent packing. However, Kevin Durant had something special to say to Giannis Antetokounmpo after their loss.
ADVERTISEMENT
Article continues below this ad
Kevin Durant wishes nothing but the best for Giannis Antetokounmpo
The Milwaukee Bucks finally rewrote history thanks to their superstar Giannis Antetokounmpo. However, Khris Middleton, Jrue Holiday, P.J. Tucker, Brook Lopez, and other integral players in the team also deserve credit for bringing a championship after half a century.
ADVERTISEMENT
Article continues below this ad
But nobody would deny that the Greek Freak deserves special mention for all the blood, sweat, and tears he put into their successful run. Not only this season but for carrying the Bucks on his shoulders every time. So, when Milwaukee defeated the Brooklyn Nets in an intense bout, Kevin Durant had something he wanted to say to his opponent.
While hugging, he told Giannis, "Go get you one, alright? Every possession, go get you one." For this to come from someone that Giannis has looked up to growing up, must have been a big deal.
Durant didn't stop praising Antetokounmpo even after the NBA Finals. He posted a congratulatory tweet that wrote, "Nothing but respect for the Milwaukee Bucks franchise, the city of Milwaukee Bucks franchise, the city of Milwaukee, and those loud ass fans. Incredible playoff run fellas!"
WATCH THIS STORY: Giannis Antetokounmpo's Free Throws From the Bus, P.J. Tucker's Speech & Other Top Moments From Milwaukee Bucks Championship Parade
Milwaukee Bucks' underdog 'Big Three'
Given, the Nets probably have the best trio on paper. But it seems like it's time to not overlook other trio's that the league has seen forming. When Jrue Holiday and Khris Middleton were put next to Giannis, fans knew this could be something great. But who knew great enough to make the franchise's dreams come true.
ADVERTISEMENT
Article continues below this ad
In fact, now that the Bucks have tasted the sweet waters of victory, they'll come back for more. And the marathon to win another championship has already begun. What they do in the offseason will play a big role in their chances at their second consecutive title.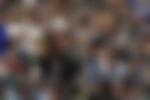 The good news is that Giannis has already signed a long-term deal with the Bucks. Even Middleton and Holiday don't seem to be going anywhere in the foreseeable future. So, with the right moves in place, can the Bucks do it again?
ADVERTISEMENT
Article continues below this ad