'He's a Threat Out There': Bucks' Giannis Antetokounmpo Heaps Praise on Khris Middleton
Published 02/09/2021, 9:48 AM EST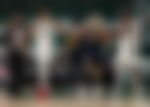 ---
---
The Milwaukee Bucks' are off to a good start in their first western road trip of this season. They defeated the Denver Nuggets with a 125-112 victory that too without Jrue Holiday playing, but what's for sure is that the Nuggets didn't make it any easier for them. However, this win has landed them their longest five-game winning streak of this season. Although Giannis is usually always the star of each matchup, this time Khris Middleton is the player who turned the game around.
ADVERTISEMENT
Article continues below this ad
Giannis' thoughts on playing with Khris Middleton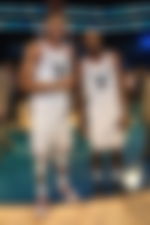 When the Milwaukee Bucks turned up in Denver, their starting lineup was quite different than expected. Just 30 minutes before the game, Jrue Holiday was replaced with Bryn Forbes. Later on, it was announced that Holiday was inactive for this game because of the league's health and safety protocols. No further details were given out.
ADVERTISEMENT
Article continues below this ad
Although this was a reason for the Bucks to worry, they still managed to win their game against the Nuggets. Not only because of Giannis' 30 points and 9 rebounds, but Khris Middleton's contribution down the stretch was remarkable. He also ended the game with 29 points and facilitated the ball like a pro, and had 12 assists and 8 rebounds for himself at the end of the night.
After the game, Giannis was asked about his experience playing alongside Middleton, who looks like he has gotten even better this year. "It's easy to play with him. It's easy to read him," Antetokounmpo said. "He's a threat out there.
"Guys respect him, guys go over when we set pick-and-rolls for him. He's a great passer, he's gonna find you, early or late. He was a capable passer, but he's way better this year. We need more from him, but I enjoy playing with Khris every single moment."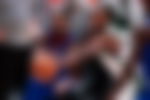 The Denver Nuggets put up a fight
The Denver Nuggets were on fire when it came to shooting in the first quarter. In fact, the Bucks were no less, as Nikola Jokic and Middleton kept going back and forth with buckets. A high scoring first half had the Bucks actually trailing 62-59.
ADVERTISEMENT
Article continues below this ad
One would think that the Nuggets would take advantage of Holiday not playing. But the Nuggets' second scoring option, Jamal Murray, was a non-factor as he only contributed 11 points to the scoreboard. This is resulting in them sliding down in the Western Conference.
The Bucks are up against the Phoenix Suns next, who are holding a great 14-9 record. Will Milwaukee be able to add another W to their winning streak?
ADVERTISEMENT
Article continues below this ad
Read also- The Workout Routine of Giannis Antetokounmpo That Was Responsible For His Transformation